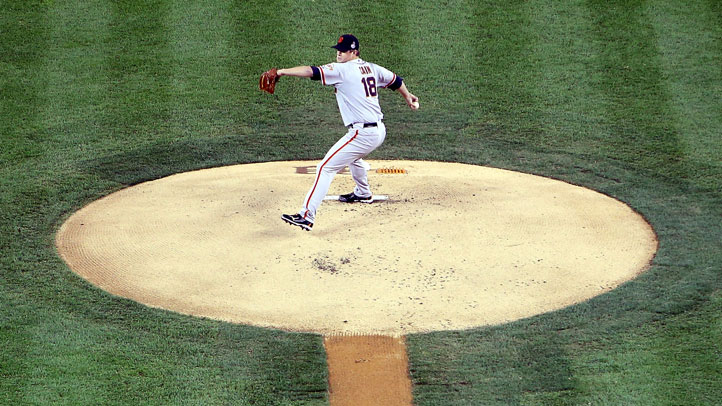 Matt Cain is going to the be the Giants Opening Day starter in 2013, our Andrew Baggarly with CSN Bay Area confirmed this afternoon.
It's not shocking to see Cain installed as the Opening Day starter. What is shocking is that it's Cain's first Opening Day start for San Francisco.
Cain's done a lot of great things for the Giants and the team's admiration of him just keeps growing. An unbelievable postseason run, another World Series championship, an All-Star Game start and a perfect game in 2012 are just examples of how great he is.
But it was Tim Lincecum who got the last four Opening Day starts. Barry Zito got the two before that and Jason Schmidt the two before that, which takes us back to the beginning of Cain's career in 2005.
Even that in and of itself doesn't represent some stunning news. Cain's always been good but he's never been the "ace" of the staff.
And now he is. Lincecum's coming off a horrible year (in as much as a World Series title can be "horrible") for himself individually. Madison Bumgarner's a stud, but he's not the guy.
The guy is Cain. Over the last four years he's averaged 220 innings pitched, 180 strikeouts, a 2.93 ERA (and a 129 ERA+) and he's struck out 7.9 batters per nine innings.
Cain's as dependable as they come and he's been the Giants workhorse despite never being fully recognized as the Giants ace.
Getting the nod on Opening Day doesn't change his stats from the past few years and it doesn't mean we should expect anything different from Cain than we've seen before.
But it's a reminder that, even on a pitching staff featuring guys with a trio of Cy Young Awards, nothing is set in stone.
And Matt Cain is, officially, the Giants ace now.