Hundreds of firefighters from across California's Bay Area region and state worked furiously to contain 60 percent of the "Morgan Fire" near Mount Diablo State Park by the end of Tuesday, downgrading the size of the fire to a little more than 3,200 acres.
Earlier in the day, crews had contained 45 percent of the fire, and had worked to contain 15 percent more by evening.
"Last night was a turning point," Cal Fire spokeswoman Tina Rose told NBC Bay Area. "We're not out of the woods, but we had a really aggressive firefight and they just put it into the box."
The manpower, coupled with cooler temperatures and more humidity, helped the 700-strong firefighting team get the upper hand on the fire, which was only 20 percent contained late Monday.
MORE: Weather Forecast for Morgan Fire
Airplanes with special infrared technology also assessed the actual fire damage and revised the charred acreage from 3,700 acres – reported Monday – down to 3,243 acres on Tuesday morning.
The fire's lack of growth was a relief for the 100 homeowners whose homes were threatened by the brush fire, which had quadrupled in size since it started on Sunday at 1 p.m. along Morgan Territory Road, the local landmark for which it is named.
"You sort of freeze up," said Paul Seaman, who lives four miles from the fire and worried that if the winds changed, his home and property could be affected. He then pondered aloud: "What's the most precious thing to take with you?"
Four firefighters have suffered minor injuries battling the blaze.
MORE: Morgan Fire Prompts Smoke Advisory
Since Sunday, the dry weather, high temperatures and the steep rugged terrain of the mountainous area had presented major challenges for Cal Fire, the East Contra Costa and Contra Costa fire protection districts, San Ramon Valley Fire, East Bay Regional Parks and other law enforcement agencies working the blaze. And on Tuesday, faced with better weather conditions, Rose said teams would be "hitting it really hard from the air and from the ground" to get the fire fully under control.
"This has been an unusually dry season," Cal Fire Capt. Steve Kaufmann told NBC Bay Area. "It's dramatic fire behavior. It definitely presents a new hazard for us."
Mount Diablo, which stands more than 3,800-feet high and appears to be a double pyramid from many angles, is part of a state park that consists of 20,000 acres. The site, which is about a 45 miles outside of San Francisco, a popular hiking spot for many in the Bay Area.
PHOTOS: Mt. Diablo Morgan Fire
The fast and furious pace of the smoke billowing in and around the mountaintop on Monday prompted the Bay Area Air Quality Management District to issue warnings for residents of Alameda, Contra Costa and Santa Clara counties. Spokesman Tom Flanningan said people who smelled the smoke should shut their windows and stay indoors. Ash was falling from the sky like snowflakes in East Bay cities such as Danville and Dublin.
MORE: Cal Fire Incident Command Details
Fire officials said the fire's size should not reach the size of the Rim Fire, which has burned more than 250,000 acres in the Stanislaus National Forest near Yosemite since Aug. 17. But to be sure, a total of 500 firefighters were expected to help on the lines Monday, and special crews were being positioned to protect historic buildings in the area.
Because of the fire's initial reach, the Contra Costa County Sheriff's Office has issued more evacuations: Trail Ride Road, Russelmann Park Road, East Trail Road, Upper Trail Road and Lower Trail Road, in addition to Curry Canyon Road and Oak Hill Lane, are under mandatory evacuation.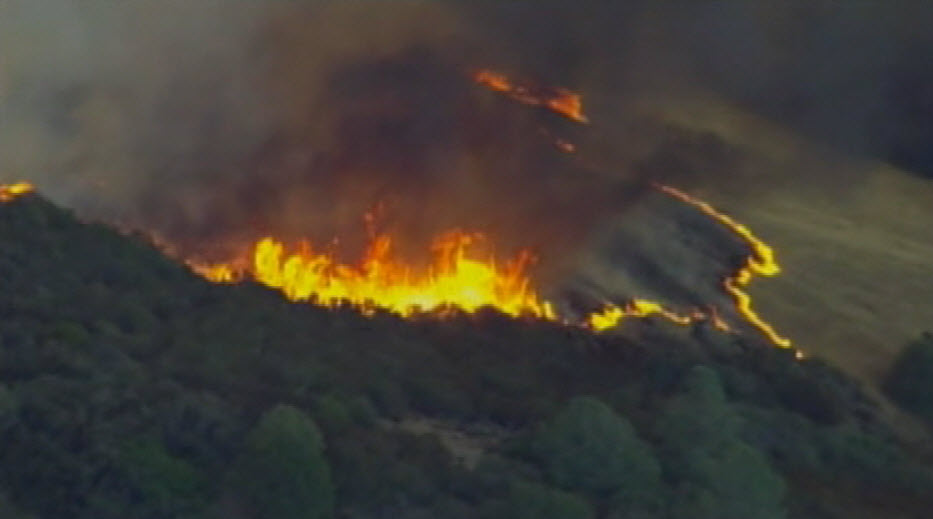 Roads were also closed to anyone except residents. Those included portions of Marsh Creek Road, Morgan Territory Road and Deer Valley Road.
The Clayton Community Library at 6125 Clayton Road was set up as an evacuation center, and the Contra Costa County Fairgrounds was being used as a safe place to take horses, cattle, hogs, sheep and goats. (For information call 925-673-0659 and 925-757-4400). The Heather Farms Equestrian Center in Walnut Creek was also taking in large animals. (For more information, please visit: www.ecwc.org or call 925-939-2929.)
NBC Bay Area's Jodi Hernandez, Kyle Bonagura, Vince Cestone, Tim Bollinger and Shawn Murphy contributed to this report.