An NBC Bay Area news crew was attacked early Thursday morning while reporting a story in a mugging that injured the photographer, whose camera gear was also stolen. A second station was also robbed of its gear.
The brazen attack occurred just before 6 a.m. at Pier 14 in San Francisco, where the reporter and photographer – along with several other news stations – were covering a story about a woman who had been shot to death there the night before. NBC Bay Area is not identifying any victims of the attack.
As the two were about to go on air, a man pulled up to the curb in a black four-door BMW, approached the photographer and pistol-whipped him with a gun then shoved him to the ground, the photographer and reporter said. The man then grabbed the photographer's camera gear, and as he was struggling to get it inside his getaway car, returned to pistol whip the photographer again, the news crew reported.
The reporter was not injured and the photographer suffered a cut to his ear. The photographer was checked out by paramedics along the Embarcadero and declared OK. Both returned to work later to the warm embrace of their colleagues.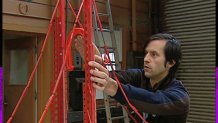 "I thought I was going to hear a click," the photographer said afterward, meaning that he thought he was going to die. He said he told the man to simply take the camera.
As the attacker, described as a man in his 20s wearing a hoodie, was hurting the photographer, the reporter yelled, "Don't shoot, don't shoot."
A reporter from KTVU was also at the scene, and had to duck out of her live newscast when the attack occurred. What happened was not shown on camera. The suspect took KTVU's gear, too.
Crews from KRON and KGO-TV were there, but they were not robbed, witnesses said.
Witnesses said it appeared as though the attacker got into a getaway car, driven by someone else. There was possibly another person in the back of the car, too. Later, San Francisco police said there were three men, and one of them had dreadlocks. They drove off in what looked like a black BMW 7 with upgraded rims and no plates.
Another reporter from KCBS radio tweeted out a photo of an ammunition magazine left at the scene.
Anyone with further information should call Sgt. Maris Goldsborough at Southern Station (415) 575-6000, the SFPD Anonymous Tip Line at (415) 575-4444 or Text A Tip to TIP411 and include "SFPD" at the beginning of the message.