Rick Grenis and his bride Bonnie Frazier spent the past year or so planning the wedding of their dreams in wine country. Come last weekend, the finishing touches were sealed in place and the enthusiastic couple was settling in for a week of relaxation, counting down the days before their "big day."
But then the wildfires ignited. Raging infernos ripped across the North Bay, leveling homes and forcing thousands of people to flee for their lives. More than two dozen people have perished as a result of the calamitous firestorm.
Hours after the blazes took off out of control, Grenis and Frazier received a phone call. It was their wedding planning company. The owner of the business lost her home to the flames. The couple's primary wedding planner had her home left in a heap of smoldering rubble.
The stream of unfortunate news wasn't over. The couple later learned that their coveted venue near Healdsburg was closed indefinitely due to the imminent danger presented by the unpredictable blazes.
"We were pretty distraught," Grenis said. "We didn't know what to do. We didn't know the status of anything. We were in shock."
Monday — the day after the fires started — was filled with devastation and mourning for the nearly newlyweds. A year of planning had been wiped away in a matter of hours.
But the ferocity of the flames, thickness of smoke and overall feelings of despair were not going to stop them from saying "I do."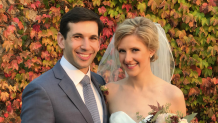 "Come Tuesday, we kind of stepped into gear," Grenis said. "Bonnie mourned for about a day and then the rest of the week she just kicked a--. Our apartment became central command."
Grenis and Frazier weren't alone in their efforts. Family, friends and vendors chipped in however they could to make sure the wedding would go on. Even the wedding planners from the wine country-based company "Run Away With Me" pressed forward.
"Our wedding planners lost their homes and they're still out there driving around looking at venues for us," Grenis said. "That's so unbelievable."
Some uneasiness and guilt were admittedly felt by Grenis. Pushing forward with a wedding given the circumstances was hard to stomach at first. Grenis couldn't understand why the wedding planners, given everything they were experiencing, were sticking around to finish the job.
"They said there's not much that they can do now," Grenis said. "This helps them keep their minds off of it, keeps it busy."
"What about all the caterers and all the staff?" Grenis remembers thinking, referring to the other vendors who were almost certainly impacted in some way by the blazes but still vowed to hold up their promises to the couple.
"[The wedding planners] said, 'Look, a lot of them work at businesses that aren't open or are permanently closed. They're really grateful for the work...People are looking for work. They can't go two weeks without work,'" Grenis said.
So the mad dash to wedding night continued, but Grenis and Frazier still didn't have a new venue.
Billy Grenis, Rick Grenis' brother, was in New York when he found about the circumstances unfolding on the West Coast. He hopped on social media, sending out pleas for help, asking anyone if they had any advice or knew of venues that could accommodate the couple in need.
"It was just unbelievable to see the outreach of friends, families, people I know, people I don't know on Twitter suggesting ways to help," Billy Grenis said. "People I hadn't talked to in awhile were texting me suggestions and ideas."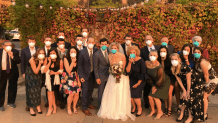 Billy Grenis himself even took a few shots in the dark. He and some friends tweeted at Oracle Arena, the Oakland Coliseum and Levi's Stadium, wondering if the sports complexes could perhaps open their doors for a wedding in just a matter of days. He was taken aback when he received a response from Levi's Stadium. That response came with an offer to host.
"It was really amazing that they, on such short notice, put me in contact with their event planning team and said, 'Normally we plan these things in advance, but given the situation, we want to help out in anyway we can,'" Billy Grenis said.
The offer on the table from Levi's Stadium came just as Billy Grenis boarded a flight from the East Coast to the Bay Area. When he arrived, he learned that his brother and soon-to-be sister-and-law had also come across another potential break.
Pulling off a wedding at Levi's Stadium in such a short amount of time eventually wouldn't pan out, but a location in Marin County — much more suitable for the couple's wine country wedding wishes — was discovered.
The venue in Novato agreed to host the ceremony despite the short-term notice and granted permission to the couple to bring in outside vendors, even though that's not usually allowed. The venue was finalized on Thursday. Over the course of the next several hours, offers of assistance continued to flow.
Restaurants in San Francisco waived late and large group fees so that the wedding guests could be fed. Vendors such as chefs and musicians, who had been gearing up to serve and entertain at the Healdsburg venue, graciously agreed to move to the new wedding location. The wedding planners found a local florist up for the eleventh hour job. A guest from New York even got his hands on face masks and transported them across the country to make sure everyone would be protected from the smoke choking Northern California.
"I told Bonnie, I said, 'At least it's white. It matches your gown," Rick Grenis said before the wedding. "Trying to find a little bit of humor in this situation."
A jam-packed week full of nearly every emotion possible came to its magical end Friday evening. Rick Grenis and Frazier tied the knot surrounded by their closest family and friends. The wedding planners who had everything stripped away from them days before were right there at the venue to make sure everything ran smoothly.
The couple's wedding didn't necessarily pan out as they had hoped. But, as Grenis said, what did end up transpiring reminded them that not everything in life goes as planned and that sometimes people just have to "roll with the punches," a motto that they went back to throughout the chaotic week.
"What makes a wedding great isn't the small details and all the different activities," he said. "It's the people who are there and the energy they bring. It's not about how much money or how perfectly everything went, but how well everyone takes it."
Billy Grenis applauded his brother and his newest family member for "just the composure that they held" throughout the ordeal. The couple's resolve and an all-hands-on-deck effort turned a nightmarish situation into a moment in time that those involved will likely never forget.
"It's just amazing to see that despite many bad things happening in this situation and others, there's just so many good people out there, people that are willing to help and make this day special," Billy Grenis said.