(Note: This story is no longer being updated. View the latest updates here.)
Multiple brush fires with "dangerous rate of spread" have prompted evacuation orders Sunday and early Monday in Napa and Sonoma counties, firefighters said.
The main blaze, called the Glass Fire, has burned at least 11,000 acres across the two counties with no containment, Cal Fire said Monday morning. Fire crews from across the Bay Area are also responding to the blaze for mutual aid. More than 8,500 structures are threatened.
The Shady Fire, which started as a separate fire west of St. Helena and was burning into the Oakmont area of Santa Rosa, was combined with the Glass Fire, Cal Fire said. The Boysen Fire was burning northeast of Santa Rosa.
Around 2 a.m. Monday structures were burning in the Skyhawk and Oakmont Village neighborhoods of Santa Rosa. Within a half hour, structures were burning at the intersection of Highway 12 and Melita Road in Santa Rosa.
The fire jumped Highway 29 across the Napa Valley on Sunday and was seen burning behind the Culinary Institute of American in Saint Helena, near the Charles Krug Winery, as strong winds, high temperatures and low humidity persisted in the heavily forested area.
The California Highway Patrol reported issues with traffic congestion as people fled evacuation zones and the blaze moved quickly toward St. Helena.
Senior citizens in the Oakmont neighborhood of Santa Rosa evacuated on foot before buses arrived with police escorts to pick them up late Sunday night, NBC Bay Area learned.
Cal Fire said the blaze started in the area of North Fork Crystal Springs Road near St. Helena and Deer Park.
The San Francisco Fire Department sent five engines and 22 personnel, while units from the Contra Costa County Fire Protection District, San Ramon Valley Fire Department, Richmond Fire Department the Rodeo-Hercules Fire District also sent crews.
Adventist Health Hospital in St. Helena announced via Facebook that all patients were transferred and their emergency contacts notified.
According to the Global Medical Response Solution, teams from American Medical Response and REACH deployed crews and ground and air equipment to evacuate the hospital.
Crews evacuated eight patients by air and 32 by ground in several dozen ambulances and a bus with the assistance of seven aircraft.
"The services that we provide every day through our 911 ambulance resources and emergency helicopters are even more important now during this time of need. We are deeply concerned for the safety and well-being of our community," said JohnRey Hassan, GMR's Napa Regional Director.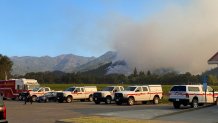 Adventist Health Hospital President Steven Herber announced the hospital was temporarily suspending patient care services and surgeries will be postponed. Read the full statement here.
The blaze comes amid a Red Flag Warning in effect for the North Bay and East Bay.
Napa Community Animal Response Team, a volunteer, nonprofit organization, is offering assistance for those facing mandatory evacuation and needing help sheltering large animals.
Evacuees should call ahead to Napa CART at (707) 732-1555 before bringing large animals to its shelter at the Napa Valley Horsemen's Association, 1200 Foster Road in Napa. Bring feed if possible, the group said.
Napa CART said shelter for companion animals is available at Napa County Animal Services, 942 Hartle Court in Napa and advised calling in advance at (707) 253-4382.
For a full list of evacuations and road closures, click here.
Bay City News contributed to this article.