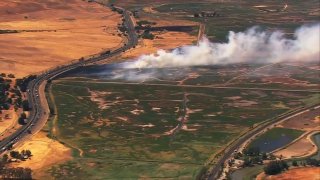 A brush fire called the "Good Fire" charred 20 acres Monday afternoon near Interstate 680 in the Solano County town of Cordelia.
The blaze burned on Goodyear Road, south of Marshview. Firefighters reported the fire was contained shortly after 4 p.m.
Crews from Benicia, Fairfield, Suisun District, Cal Fire, Travis AFB and Napa County Fire helped battle the blaze.