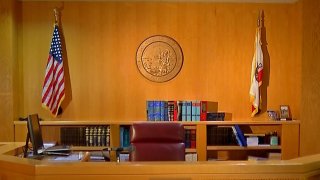 A defense attorney told jurors on Tuesday that an Oakland man should be found not guilty of two counts of murder because he's "a good citizen" with a wife and child who acted in self-defense when he and another man fired shots that killed two men in East Oakland in 2015.
In his closing argument in a packed courtroom, defense lawyer Michael Cardoza said David Vigil, 35, "had no intent to kill" when he and his companion, who's never been identified or found, drove up next to a car occupied by Oakland residents Jorge Salazar-Gonzalez, 24, and Edward Miranda-Castillo, 31, in the 2000 block of Crosby Avenue at about 11:21 p.m. on Sept. 24, 2015.
Cardoza said Vigil and his companion, who also was armed, just wanted to buy marijuana from the two other men and opened fire only after Salazar-Gonzalez, who was in the driver's seat in the other car, pulled out his gun and started shooting.
But Alameda County prosecutor Butch Ford said Vigil can't argue that he acted in reasonable self-defense because he and his companion created a dangerous situation by driving around with guns late at night and approaching people they didn't even know.
Ford asked, "Does a reasonable person drive around at 11:30 at night carrying a gun and walk up to people he doesn't know?"
He said Vigil didn't act reasonably and told jurors, "None of you would be in that situation."
Ford said Salazar-Gonzalez and Miranda-Castillo "gave no indication they were selling weed" and when Vigil and the other man approached them they had been minding their own business and eating pizza and smoking marijuana while sitting in a car in front of Miranda-Castillo's home after they got off their jobs at a pizza parlor.
Vigil testified on Monday that he always carries a gun because the Oakland neighborhood where he lives is dangerous.
But Ford said Vigil's testimony is contradictory and isn't believable because, "You're living in a city you say is violent and you go around late at night and contribute to the violence and the shootings."
Ford alleged that Vigil lied to the police by claiming he wasn't at the scene and then tried to hide his guilt by disposing of his gun and his cellphone, which the prosecutor said would have had information revealing the identity of the man who was with Vigil.
Referring to Vigil, Ford said, "This 'good citizen' does everything he can to defeat law enforcement's efforts to connect him with the crime."
Although Cardoza said Vigil fired shots in self-defense, Ford said he believes the evidence in the case indicates that Vigil fired first and Salazar-Gonzales fired a shot in self-defense that struck Vigil in the shoulder and forced Vigil to get treatment at a hospital.
In cross-examining Vigil on Monday Ford suggested that the shooting might have been in retaliation for a shooting in the Crosby Avenue area a few weeks earlier but Vigil said that wasn't the case.
Ford asked jurors to convict Vigil of two counts of second-degree murder and one count of shooting into an occupied vehicle.
Jurors deliberated for about two hours on Tuesday afternoon and will resume their deliberations on Wednesday morning.
Copyright B