The dust from Monday's Federal raids on Oakland's Oaksterdam University had hardly settled, before hundreds of medical pot advocates took to the streets in protest. On Tuesday, several hundred protestors, many hoisting signs saying "cannabis is a medicine, let state's regulate," gathered on the steps of San Francisco City Hall.
The rally was scheduled well before federal agents from the D.E.A. and I.R.S. raided half a dozen Oakland businesses Monday, all connected to Oaksterdam founder Richard Lee. Lee himself attended the rally but didn't speak to reporters.
But fellow medical marijuana advocates revealed their own suspicions behind the growing federal pressure to shut down medical pot clubs.
"President Obama has an election to win and nobody in the Department Of Justice looks bad going after drug crimes," said longtime marijuana advocate Jeff Jones.
The growing pressure by federal prosecutors has sent a chill through the medical pot industry. The Department of Justice has sent dozens of letters threatening landlords who rent space to medical pot dispensaries. The landlord of San Francisco's nine-year-old Hope-Net dispensary received one of the notices, according to the dispensary's founder, Catherine Smith.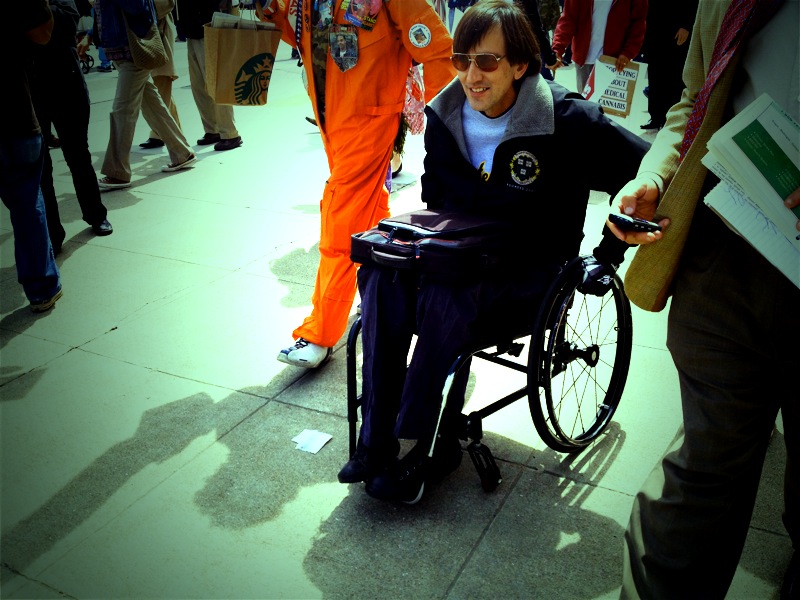 "To be honest, it scares the hell out of me," said Smith. "But not stopping scares me too." San Francisco's City Attorney is also upset at the government's tactics. City Attorney spokesman Matt Dorsey said the city will file an amicus brief in a case before the California Supreme Court, which Dorsey said would decide whether federal laws pre-empt California laws.
"We're going to argue that it doesn't," said Dorsey. He said the case would establish "whether there's an important place for local communities like San Francisco and Long Beach and others to have reasonable regulation of medical cannabis dispensaries."
Former federal prosecutor Wes Porter said he doesn't believe the crackdown is politically motivated. He said with the medical cannabis industry generating millions of dollars, the feds are taking a closer look at where the profits are going.
"When I see a raid like we saw yesterday, and I see blue jackets that say not only D.E.A. but I.R.S. involved, that leads me to think there's more serious things going on, " said Porter, now a law professor at Golden Gate University.
With the federal search warrants in the Monday's raids under seal, advocates can only speculate what inspired federal agents to raid Oaksterdam and another nearby dispensary.
Hope-net says despite the federal pressure, it will continue to operate as long as it can, hoping its nine years of progress on marijuana advocacy, doesn't go up in smoke.