The following is a Pool Report on Pres. Barack Obama's visit to the Bay Area by reporter Mike Rosenberg of the San Jose Mercury News:
After sleeping the night in San Francisco, Obama this morning traveled to Atherton via helicopter on Marine One.

He landed at a giant field at the Menlo Circus Club, a posh country club in Atherton, just after 10 a.m.

Kids and families at the country club took out cell phones to capture the arrival, as did local police officers and firefighters.

On the motorcade ride, there were more people with signs, including some that said simply "thank you," and a few dozen protestors at a street corner holding signs against the proposed Keystone XL pipeline – far fewer than the previous night in San Francisco.

Eventually the motorcade wound up a steep hill to the residence of Liz Simons and Medley Partners Managing Director Mark Heising for a brunch at their Atherton home, at $32,400-a-ticket.

The hilltop estate was gorgeous, with picturesque views of the secluded section of Silicon Valley notorious as one of the richest ZIP codes in the nation.

Although it was cloudy with off-and-on showers all morning, the skies cleared for Obama's fundraisers. Home had bocce court, huge outdoor patio with grills, pools, etc. In a small dining room, Simons briefly introduced Obama, who spoke for just more than 10 minutes. Some of the topics he hit on include the economy, education, infrastructure, LGBT rights and climate change.

He wore a black suit, with the top jacket button buttoned, a white shirt and silver tie. No mic. Was next to a piano.

Very initiate setting, everyone within 20 feet and about three tables.

He mentioned how Silicon Valley had gotten ahead in large part due to science and research investments.

Some quotes:

"I want to make sure we've got the best education system in the world."

"I want to make sure that we're rebuilding this country."

"I believe we've got to get ahead on our energy policy."

On gridlock in Washington:

"I assure you it's a great source of frustration for me, as well."

Believe we can get comprehensive immigration reform through Congress "in the next few months."

Getting his gun control measures passed in Congress will be tougher, "but I still think it can get done" if people are committed to the cause

He also joked about the wealth in Atherton, saying people "in this room," and "frankly, in this whole town probably," they can afford to pay higher taxes.

He ended by urging investments in the Democratic party, of course – which is the reason he's here.

Then he talked with the donators for another half-hour while the press waited downstairs.

He was off to a second and final fundraiser of the day …
After brunch, the motorcade took another 5-minute ride to the nearby Atherton home of former insurance mogul and Levi-Strauss heir John Goldman and his wife, Marcia, where tickets cost $1,000 to $20,000.
Very similar ride: A few signs, lots of neighbors with cell phones, black SUVs in the motorcade winding through tree-lined streets past million-dollar homes.
Everyone was standing under a tent in the couple's backyard for the catered lunch event as a band played music. About one-third of the attendees were taking pictures or recording the events on their tablets and phones, which is par for the course in Silicon Valley, where everyone has at least one high-tech gadget at all times. This event was much larger – about 250 people in attendance – and outside.
After the press got out of the holding room, Goldman introduced Obama, saying: "Our country was spiraling downward (when Obama took office).
Aren't we indeed fortunate to have this person as our leader?" which got big applause. Obama spoke at a podium, using a mic, with a huge American flag as the backdrop.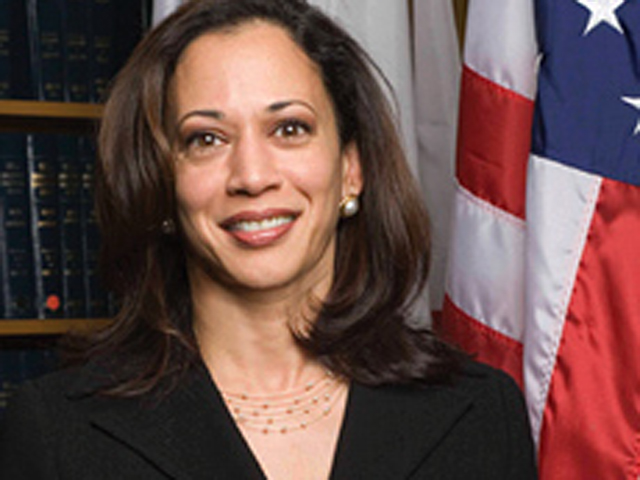 The topics of the speech were very similar to the points he made at the brunch.
He introduced California Attorney General Kamala Harris, a rising star in the Democratic party, and called her the "best-looking attorney general" he's seen (after laughs, he said "It's true; come on.").
He also called her brilliant, dedicated and tough, and "exactly what you want" in an AG.
Also introduced and praised was U.S. Rep. Mike Honda, a Democrat who represents a big chunk of Silicon Valley in the House. Honda was standing in the back, prompting Obama to ask where he was, and Honda shouted out "I'm short!"
After laughs, Obama said: "you're not a real tall guy." Laughs all around. Some highlights from speech "The reason I'm here is that the country still needs you." "It's going to depend on you as citizens and how badly you want it," – on changing for the better We "have a chance after 30 years of doing almost nothing to reduce gun violence in this country."
In a jab to the GOP, after referencing Republican lawmakers, he said: "Most people actually have common sense."
He said there was "no contradiction" between improving the environment and the economy, and that in some ways a better environment could help spur economic improvements On Silicon Valley: "This is the epicenter of innovation in the nation." More activism seeking: "You're going to have to push; you can't just wait for things to happen."
On the new movie "42," about Jackie Robinson breaking baseball's color barrier: "It's a reminder of how change happens in this country. It doesn't happen all at once." Afterward, he headed back to the country club (similar ride as the previous two), took off in the helicopter toward SFO and landed there shortly after 1 p.m.
He strode about 50 yards to Air Force One and jogged up the steps, waved goodbye to the news cameras, stepped inside and was in the air around 1:20 p.m.