Occupy supporters began marching at 11 a.m. in San Francisco Tuesday, heading toward Wells Fargo, where they planned to confront executives at the company's annual shareholder meeting.
The plan, according to a statement from the Occupy movement, is to demand that Wells Fargo CEO John Stumpf and other executives "address the concerns of the 99 percent."
An NBC helicopter took video from above the march, and all looked peaceful shortly after it began at Justin Herman Plaza. It appeared as though up to 500 were there. Many, including clergy, used tubes to lock arms outside the Merchant's Exchange Building on California Street.
The San Francisco police department said two dozen people were arrested for either disrupting a meeting or trespassing. They said three of those people were arrested for interfering with a peace officer. All but two were cited and released. The two were booked after police said they attempted to punch sheriff's deputies in the area of Montgomery and Pine Streets.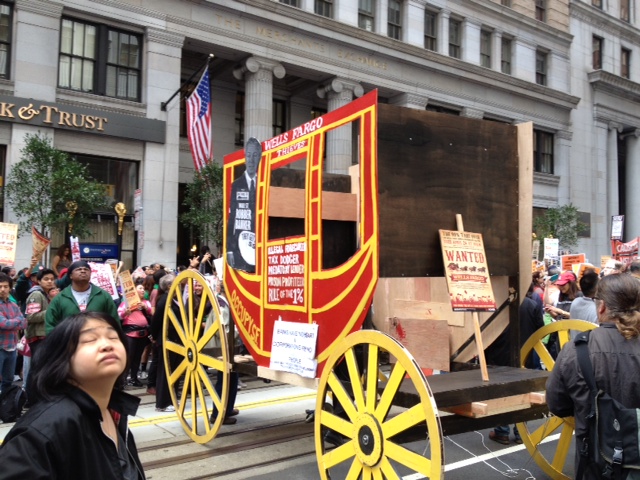 Wells Fargo issued this statement in reaction:
"Wells Fargo has helped more than 740,000 customers with loan modifications, and has forgiven $4.1 billion in principal since 2009. The unfortunate reality is that some customers are in homes they cannot afford, even with substantially reduced payments...When people are 60 days or longer past due, and they decide to work with us, we are able to provide an option that prevents foreclosure for 7 out of 10. Over the past year, less than 2 percent of owner-occupied loans in our servicing portfolio have resulted in foreclosures."
Wells Fargo spokesman Ruben Pulido added in another statement that the company respects the protesters' rights to gather, but would work to keep its customers, employees and shareholders safe.
The San Francisco actions come on the heels of other Fortune 100 shareholder meetings nationwide, including one at Citigroup in New York.
The Occupy Bay Area disruption action comes in the midst of a growing national campaign calling for Wells Fargo, the nation's largest mortgage servicer, to provide major new homeowner relief with more principal reduction. Nationwide, more than 11 million homeowners are underwater, the movement stated.
Wells Fargo's Pulido defended the bank's foreclosure policies: "We work to keep people in their homes where there is affordability. Unfortunately some people have seen their incomes drastically reduced due to unemployment or underemployment."