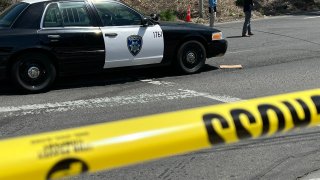 The Oakland Police Department said Wednesday it is investigating a police shooting involving an off-duty officer.
No one died in the shooting, which happened in the 800 block of 35th Avenue just before 9:30 a.m., police said.
According to the Oakland Police Department, officers arrived at the scene and searched the area where they later found a loaded fire arm.
Moments after, an unidentified individual arrived at a local hospital with gunshot wounds. That person is in stable condition.
The off-duty cop was not physically injured and police confirm there is no believable threat or harm to the public.
After the shooting was reported, a nearby school was placed in lockdown out of an abundance of caution in light of the shooting in Texas. The school has since reopened.
The shooting is being investigated by the Oakland Police Homicide Section, Internal Affairs Divisions and Oakland Police Community Review.
The off-duty officer involved in the shooting has been place on administrative leave as is protocol.
Further information was not immediately available.
This is a developing story. Details may change as more information becomes available. Stay tuned for updates.