The iconic property known as the Flintstones House has been declared a "public nuisance" by the California town of Hillsborough, and slapped with a lawsuit, but now the homeowner is fighting back with a counter suit, claiming it's a violation of her First Amendment right.
The new decorations outside the house — dinosaurs and mushrooms — are at the center of dueling lawsuits between the homeowner and the town of Hillsborough. Thousands of drivers get a look at this house off Interstate 280 every day, as they drive up and down the Peninsula.
And depending on who you ask, it is either an "eyesore" or a "treasure."
The house itself is not part of the town's public nuisance lawsuit, it's all the stuff around it.
The decorations definitely catch the eye, as does the giant "Yabba Dabba Doo" sign.
That's what Hillsborough officials don't like, and they want the owner to screen off the decorations, such as the huge dinosaurs that make the property look like the town of Bedrock.
Fang, a media mogul and a prominent member of the Chinese-American community in the Bay Area, has hired the San Francisco-based Law Offices of Mayor Joseph L. Alioto and Angela Alioto to fight her case.
"Is it really about a dinosaur that they want a tree in front of? Is it really about dino? Fred? Wilma? Or Betty? Is it really about that? Or is it about treating Mrs. Fang differently because she has a dream? And because she's Chinese and because this is Hillsborough?" attorney Angela Alioto asked in front of reporters on Thursday, while announcing a counter-lawsuit which called the town's public nuisance lawsuit "harassment," and possibly racial discrimination.
"I think they're 'elitists,'I think they really don't want the Flintstone house, and they don't want Mrs. Fang," Alioto said.
Fang, 85, points out the property was vacant for two years before she rescued it, and that the decorations are a tribute.
"I make so many people happy … I make Americans memories alive … I make this house alive again," Fang said. "Dare to dream. Dare to make a change. Dare to make a difference. I think this house represents that spirit. I think this house represents the American drive force. This house for me is about America."
Fang says she's cooperated with the city to make the changes they have asked for but they seemed to move the "goal post" every time.
Look Inside 'Flintstones' House in Hillsborough
"All I want is a peaceful, happy retired life," she said.
Fang's attorneys called the town's behavior unconstitutional.
"We will be countersuing with state and federal causes of action against the town of Hillsborough for what they've done to Mrs. Fang," Alioto said. "For what they've done to Mrs. Fang and her dream in her own private property, in her own home that is not visible to neighbors. No neighbor has ever complained and they sued her"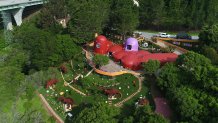 Fang has support from the original architect, Nick Nicholson, who admits that in the 70's he didn't have the Flintstones in mind.
"I think it's great because it adds this essence of 'fun," Nicholson said.
For Fang, the house is more than a homage to the popular cartoon series, it's a homage to America.
The town of Hillsborough's attorney adamantly denies any discrimination.
Mark Hudak says the lawsuit is about Fang ignoring the permits process, and additions that are too "visually impactful."
"If she wants to look at those statues, she can. It's just that she can't force 'everybody else' to look at them as if she were the only point of view," Hudak said,
The dueling lawsuits will all be set in place within 30 days. Meanwhile, Fang is now preparing a new permit application which means she could still ultimately keep all her decorations. But how much the public will see remains very uncertain.
Close up view of 'so-called 'eyesore' at #Flintstones house that triggered public nuisance lawsuit by #Hillsborough and counter suit by property owner. pic.twitter.com/F3WURtRzny — Robert Handa (@RHandaNBC) April 11, 2019
Owners of #Flinstones house says it will counter sue town of #Hillsborough for its public nuisance lawsuit. Attorney #AngelaAlioto says town harassing #FlorenceFang even though she's complied to all previous demands, pic.twitter.com/2bV7Bh3Kwf — Robert Handa (@RHandaNBC) April 11, 2019
All I want is a peaceful, happy retired life:" Mrs Fang, owner of the iconic Flintstone house, says she plans to take action against the counter suit filed by the city of Hillsborough. pic.twitter.com/d1oLlW12f1 — Jennifer Gonzalez (@JennieGonzMedia) April 11, 2019