Berkeley was the scene of yet another protest Tuesday afternoon and it was tense, as has been the case repeatedly.

A rally by Patriot Prayer started at Sproul Plaza and then snaked its way around Berkeley. Nearly 100 people showed up — some in support and others in opposition of the controversial conservative group — and three of them ended up in handcuffs.
Patriot Prayer's organizer, Joey Gibson, on Monday took to Facebook Live to talk about the march.
"It only takes one person to stand up for free speech," he said. "I am so excited to go to the birthplace of free speech and continue to protect free speech."
As people screamed at each other in Berkeley on Tuesday, the rally resembled a mosh pit more than a forum to discuss free speech. Under a so-called Tent of Empathy, a crowd of people tossed each other around like rag dolls.
Gibson said confrontrations run counter to his goal of respectful conversations.
Patriot Prayer wants to "have a dialogue," he said, "but we have people over here who, for whatever reason, refuse to let us talk. They refuse."
However, dialogue did not rule the day.
Berkely police moved in unison and with conviction, stepping in as soon as things got tense or violent.
Ricky Joseph Monzon, 20, of Las Vegas, was arrested for carrying a banned weapon; Yvonne Felarca, 47, of Oakland, for resisting arrest and battery; Brandon Witte, 21, of Rocklin, for illegal possession of body armor and violating probation; and Eddy Robinson, 47, of Oakland, for participating in a riot and resisting arrest, Berkeley police wrote on Twitter.
Felarca, a Berkeley school teacher and member of By Any Means Necessary, was charged with assault, participating in a riot and inciting a riot after a faceoff between white nationalists and counter-protesters in Sacramento in 2016. Tuesday's charges were born after she stared down Kyle "Based Stickman" Chapman, who is tied to Nazism and violence. On Sept. 5, Chapman pleaded not guilty to a felony charge stemming from when he allegedly brandished a leaded stick at a rally in Berkeley in March.
Robinson was arrested for carrying banned weapons to right-wing commentator Ben Shapiro's speech in Berkeley on Sept. 14.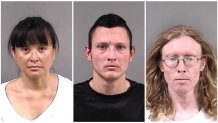 From its initial meeting point, Patriot Prayer marched to the vicinity of Telegraph Avenue and Bancroft and Channing ways. They were swarmed by police, who warned people to expect traffic delays, and were shouted down by counter protesters bellowing out chants of inclusion and anti-fascism.
"I don't understand why people can just think that they're better than other people based on the color of their skin or if they're gay or whatever," said Katy Maloney, who works at UC Berkeley. "All of that doesn't make sense."
Holden Valentine, a second-year student, echoed the sentiment.
"The rise of fascism and white supremacism in this country is something that we can't turn a blind eye to, and we think it is our moral obligation and our civic obligation to peacefully protest it," Valentine said.

However, Ben Bergquam, who was badly injured during a Berkeley rally in April, had a different take.
"The problem is the violent, Marxist extremists that we have like BAMN and Antifa that do this," he said, pointing to his scar. "I got seven stitches here, six in my ear, (and) I got punched in the mouth."
The upheavel surrounding UC Berkeley and its alleged take on free speech has also drawn mixed reactions from students.
People who live in Mari Wilson's dormitory are "over it and angry," she said. "It's our learning environment and it shouldn't be disrupted like this."
On the flip side, Andrew Santoso appreciated the exposure these protests are offering him.
"I really like it because I get to see both sides of the political spectrum and I'm able to base my political views off what other people are saying," he said.
Others on the streets Tuesday — entire film crews as well as students with cell phones — didn't have a stake in the issues at the heart of Patriot Prayer's rally and the ensuing counter protest, but simply showed up to document history.
Patriot Prayer was behind a controversial free speech rally that was slated to take place in San Francisco's Crissy Field in August, but the group called off the event, citing "fear brought on" by local leaders, including Mayor Ed Lee and House Minority Leader Nancy Pelosi.
Tuesday's Patriot Prayer march and rally comes as the four-day Free Speech Week was supposed to be in its third day at UC Berkeley. Those events were called off by student group Berkeley Patriot.
Despite the cancellation, right-wing provocateur Milo Yiannopoulos still made a brief, unsanctioned appearance on Sunday at the East Bay campus. He spoke to a small group of supporters without amplification, and signed autographs and snapped selfies before leaving. Hundreds of protesters were kept away from the group by police.
NBC Bay Area's Rhea Mahbubani and Brendan Weber contributed to this report.