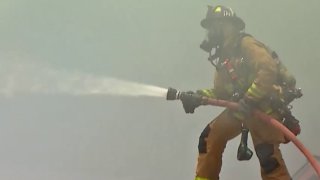 A smoky fire at an encampment Friday afternoon prompted Menlo Park officials to issue a health advisory for the area of Bayfront Expressway between Willow Road and University Avenue.
Firefighters responded to the two-alarm blaze on the 1500 block of Willow Road.
Menlo Park Fire District Chief Harold Schapelhouman said Friday's blaze was the third fire crews have responded to in the area this week. All of the fires started in encampments in the same location, Schapelhouman said.
No injuries are reported in the blaze, which firefighters contained in the afternoon.