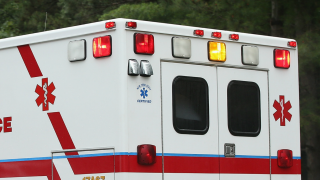 Five Menlo Park police officers were injured Saturday while arresting a reported "body builder" who was said to be running in and out of traffic while bleeding from his head.
Officers initially responded at about 2:24 p.m. to the area of Hobart Street and Santa Cruz Avenue to investigate a report of a shirtless man, later identified as 45-year-old Johnathan Koehl of Belmont, "acting erratically" in the area, police said.
Arriving officers found an "agitated" Koehl in an "altered mental state," police said. He was also suffering from a "significant" head wound.
Officers tried to de-escalate the situation, but Koehl took off, ran through traffic and then tried to break into an occupied home, police said.
After a second de-escalation effort failed, Koehl again tried to break into a residence, police said. Officers turned to using a Taser and flexible projectiles to try to subdue Koehl, but he continued to resist.
Officers struggled with Koehl for more than three minutes before they were able to handcuff him, police said.
Koehl was taken to a hospital with non-life-threatening injuries that he suffered before and during the struggle with the officers, according to police.
Five officers were also injured and received treatment at the hospital, police said. Some of the injuries were described as being significant but none were life-threatening. All five officers were eventually released from the hospital.
On Sunday, Koehl was taken from the hospital to San Mateo County Jail where he was booked on multiple charges, including attempted burglary, resisting arrest, battery on a police officer and obstructing a police officer, police said.
Before Koehl's run-in with Menlo Park police, he was involved in another incident with Belmont police early Saturday morning, Menlo Park police said.
Koehl ended up going to the hospital, but he later left "on his own will" and made his way to Menlo Park, police said. He was booked on separate charges related to the incident in Belmont.