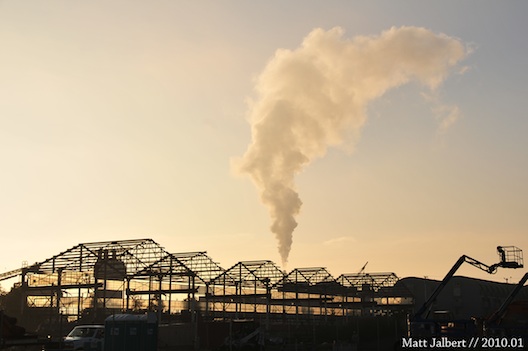 After decades of disaster, San Francisco's waterfront may be turning the corner. Or at least, the first corner of many.

Prime focus for waterfront redevelopment has landed on Pier 70, currently a cluster of nothingish warehouses in the middle of nowhere. Floating somewhere between AT&T Park and Monster Park, the pier's stewards ask, "What do we do with more than 30 acres of prime bay front land, full of history and potential, but also many challenges?"

Those challenges are numerous, and include buildings made of seismically unsound masonry, toxic shipbuilding residue, and extensive colonization by vagrants.

Pier 70 is a 25-acre lot owned by the Port of San Francisco, which points out that it is "required to promote navigation, fisheries, and maritime commerce, to protect natural resources and to develop recreational uses that attract people to enjoy the Bay and waterfront."

So far, no concrete plans have been hammered out, but the city has asked developers to bid on restoration products. Responses are due by November 18, and could include all manner of environmental and economic upgrades.

A master plan calls for restoration of the historic buildings and former wetlands, biotech office space, and even potentially residential structures. Construction likely won't start for years, but in the decades to come, Pier 70 could be a place people want to call home, rather than a place people avoid at all costs.
Copyright FREEL - NBC Local Media