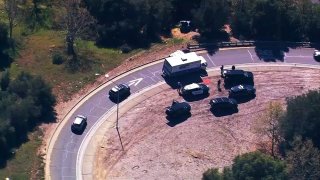 Police arrested two carjacking suspects involved in a home break-in in the Danville and Pleasanton area Wednesday.
The incident began with a car being stolen in Pleasanton in the morning along with a garage door opener to a home in Danville.
When Pleasanton police alerted the Danville Police Department, officers received a report of an intruder at the residence in question, police said.
Danville police headed to the scene and saw the two suspects leaving the home. That's when a pursuit began and ended with the suspect vehicle crashing off Interstate 680 and Bernal Avenue.
Both suspects fled on foot and police eventually arrested them around the Bernal Avenue and W. Lagoon Road area in Pleasanton.
This is a developing story. Stay tuned for details.