A man seen in surveillance video hopping out of a van naked and peeking through windows in a San Jose neighborhood has been arrested, police said.
San Jose police identified the man as Mark Veregge. He faces multiple counts of misdemeanor peeping and prowling, police said, adding Veregge was booked into Santa Clara County Jail.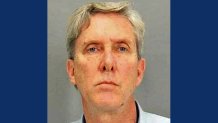 Surveillance video obtained by NBC Bay Area shows a man looking in windows in an area called the Meadowlands, a secluded part of the city's Evergreen neighborhood.
The incident is one of several similar acts police have linked to Veregge between Feb 15 to March 5.
In two incidents, police said Veregge was captured on surveillance walking naked to a residence in the 3600 block of Meadowlands Lane in San Jose. Both incidents included Veregge knocking on the front door, looking through a window and fleeing the scene, according to police.
Neighbors have been on edge and passed out fliers to alert the community.
Veregge, a former Stanford lecturer, is listed as a principal percussionist for the California Symphony. He joined the orchestra in 1987, according to the California Symphony's website.
In 2017, Veregge was charged with misdemeanor prowling in connection with a case where he was caught on surveillance cameras outside a home wearing women's underwear and heels.