Police in San Mateo are searching for a man they say sexually assaulted a woman Tuesday night while posing as a ride-hailing driver.
At about 7 p.m., officers responded to a call from a passerby in the 1400 block of Fashion Island Boulevard reporting that an assault had occurred, police said.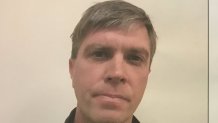 Officers arrived within two minutes and located the victim, who was in San Mateo near Highway 92 when she was picked up by a driver who presented himself as being associated with a ride-hailing company, police said.
The suspect drove her to a secluded area and sexually assaulted her, the victim told police. She was able to escape and, with the assistance of a passerby, called police.
"Something of this nature that's this egregious is always very troubling," Lt. Ryan Monaghan said. "It's outside the norm, and it shocks the conscious. For us, we take these very seriously. We have investigators working around the clock."
The suspect fled in a gray four-door sedan, police said. He's described as a tall man in his late 30s, with a slender build.
Police released a sketch of the suspect Wednesday. They also warned people when they hail a ride to always check the license plate number, the vehicle model and the name of the driver before getting into the vehicle.
Anyone with information about the incident or who knows the identity of the suspect should contact Detective Nicole Von Glahn at (650) 522-7655 or by email at nvonglahn@cityofsanmateo.org.