A man and woman were taken into custody Monday morning after an hours-long standoff in San Jose's Willow Glen neighborhood, and a suspected burglar surrendered later in the morning after a second lengthy standoff in East San Jose, according to police.
San Jose police shut down streets in Willow Glen early Monday morning after responding to the domestic disturbance at about 3:25 a.m. in the 1500 block of Meridian Avenue, near Keesling Avenue, police said.
The standoff ended peacefully when the man was taken away in handcuffs and the woman was escorted into a patrol vehicle.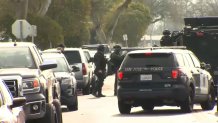 Later Monday morning, San Jose police were negotiating with a burglary suspect who entered a home on Primm Avenue in East San Jose and refused to come out, police said.
Residents of the home were able to evacuate, and no injuries were reported, police said.
Officers responded to that incident at 4:08 a.m., and as of 10:30 a.m., the suspect had been taken into custody.
Primm Avenue was still closed to traffic from Christopher Street to Miami Drive as the investigation continued, police said.
Bay City News contributed to this report.