President Barack Obama's Bay Area visit is now in the books. It lasted just over 20 hours and put millions in Democratic coffers. The total dollar figure was not immediately released, but the two San Francisco fund raisers made $3.5 million alone, according to reports.
Marine One brought Mr. Obama to a tarmac at SFO around 1:45 p.m. Thursday for an on-time Air Force One departure.
He spent the morning at two peninsula fundraisers that will benefit the Democratic National Committee.
Liz Simons and Mark Heising hosted of a $32,000-a-head brunch at their Atherton home. The president stayed within the city limits for a second meal at the home of John and Marcia Goldman. The cheapest tickets to that event was $1,000.
The president made some news during one of the fundraisers when he told the crowd he thought California Attorney General Kamala Harris is "by far the best-looking atttorney general in the country."
See full pool report of Thursday's events here.
Those who attended the fundraiser said it was well worth it to pay and support the Democratic National Committee.
Rep. Mike Honda, who's running for re-election in California's' 17th Congressional District, said the president is focused on the fight to win back the House. "I think he's really focusing in on making sure the legislature has a congress that's going to be able to help him," said Honda.
Bob Tandler, DNC supporter and fundraiser attendee, said, "I think it's important to support the president's efforts to bring back the House to the Democratic Party. This is one of those key events."
Near the brunch fundraiser, a group of a couple dozen people stood outside with signs, protesting the Keyston XL Pipeline. The proposed project would carry heavy crude oil from Canada across six states to the Gulf Coast.
Protesters are worried about higher greenhouse gas emissions and global warming, as well as the threat of a spill. They are far from being the president's only critics. Mr. Obama's fundraising has also drawn criticism, specifically his decision to endorse a Super PAC linked to his campaign and his decision to accept corporate donations.
Sunlight Foundation, a non-partisan, non-profit open-government advocacy group, told NBC Bay Area Thursday: "President Obama has sent mixed signals about his commitment to fixing the problem of money in politics in Washington. He's showing it's business as usual, it doesn't matter what party you're from. It's an endemic problem of catering to those who can afford to be at the table."
Obama supporters who attended the second Atherton fundraiser at the house of John Goldman, a Bay Area investor and philanthropist, countered and said it's a problem with the system, not the president.
"Unfortunately, the Supreme Court passed Citizens United, let that go through, so now even though we don't believe in putting a lot of money in politics, we're going to do it," said Marilyn Waldman of Atherton.
Steven Goldby, another Atherton resident, added, "Would we be better off if there was less money in politics? Would we be better off if all campaigns were publicly funded? Absolutely. But the fact is they're not."
The trip was the president's first visit to the Bay Area since winning reelection. His last visit to the Bay Area was in October during his presidential campaign.
He did not make any public appearances.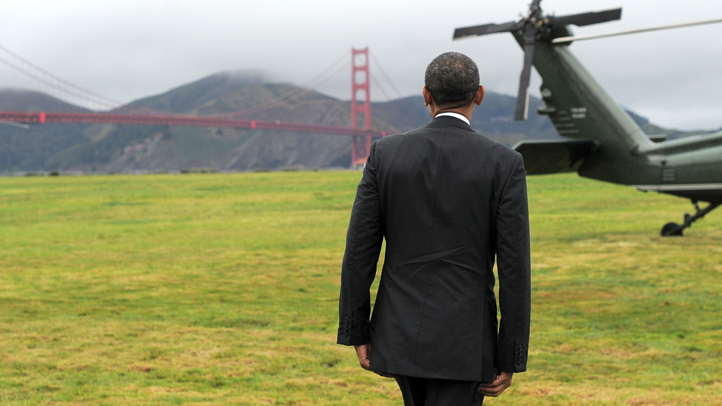 He spent the night at the InterContinental Hotel in San Francisco, leaving around 9 a.m. via motorcade for a quick ride to Crissy Field where he hopped aboard Marine One for a quick flight down the peninsula.
A Getty photographer captured his walk to the helicopter where the president was able to get a nice view of a foggy Golden Gate Bridge.
He touched down at SFO at 5:30 p.m. Wednesday for the quick two-day fund raising visit.
The president did not have a receiving line of any kind on the tarmac. He bolted down the stairs and into a waiting black SUV. Within minutes the president and his motorcade of 20 cars or so took off headed north into the City.

The president held two fundraisers that will benefit the Democratic Congressional Campaign Committee Wednesday night in San Francisco.
The first one was at the home of former hedge fund billionaire Tom Steyer.
Then the president took a short drive to Pacific Heights for a dinner at the home of Ann and Gordon Getty.
The fund raising trip comes in the middle of a political cross-country swing for the president where he is pitching his gun control agenda to voters in Connecticut and Colorado.
President Obama is planning a trip to Connecticut Monday to step up the pressure on a reluctant Congress to pass gun control legislation.

A White House official speaking on a condition of anonymity says the president will speak at the University of Hartford. Families of those killed at Sandy Hook Elementary School in Newtown, Conn., in December are being invited to attend.

He also made a stop Colorado ahead of his visit to San Francisco, near the site of a shooting at a crowded movie theater last summer. Following the mass shooting Colorado responded by requiring background checks for all gun purchases — something Democrats hope to do at the federal level.
(function() { function async_load_poll(){ var exscript_poll_script = document.createElement("script"), head = document.getElementsByTagName("head")[0]; exscript_poll_script.type = "text/javascript"; exscript_poll_script.src = "https://excitem.com/nbc/s_embed.php?id=552"; head.appendChild(exscript_poll_script); } if (window.attachEvent){ window.attachEvent("onload", async_load_poll); } else { window.addEventListener("load", async_load_poll, false); }})();
Copyright AP - Associated Press