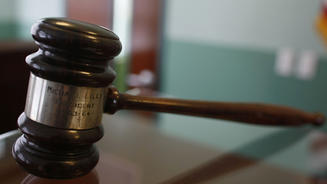 A parole agent acted lawfully when he shot one of the parolees he was supervising during an altercation outside the State Parole Office in Redwood City in April, county prosecutors said Tuesday.
Parole Agent Marvin Abad was in his office at 1:30 a.m. on April 23 when he heard banging and yelling nearby and found Aaron Womack, a parolee who lived in a makeshift encampment in the parking garage of the parole office building, making the noises and holding a dumbbell, according to the investigation conducted by prosecutors.
Abad allegedly tried to calm down Womack and remind the parolee of the nature of their relationship, but Womack did not listen and shattered a glass door with the dumbbell and kept moving toward the agent.
Abad feared for his safety due to his knowledge of Womack's past, which included assault with a deadly weapon, severe mental health issues and a restraining order against him to protect a doctor with a Stanford psychiatric service.
A 70-year-old homeless man who had also been staying in the garage apparently confirmed some of the details Abad described regarding the encounter.
"It is apparent that Agent Abad acted lawfully in response to a dangerous and rapidly-escalating situation," District Attorney Stephen Wagstaffe said.
After Womack was shot, he still didn't listen to the police and was stunned with a Taser by an officer before he could be handcuffed, a witness apparently said.
The criminal case against Womack charging him with felony assault with a deadly weapon on Abad is set for jury trial on Aug. 26 and for pretrial conference on July 30.
Copyright BAYCN - Bay City News