In February 2019, supporters of high-speed rail from San Francisco to Los Angeles were stunned to hear Gov. Gavin Newsom announce in his State of the State address that California does not have enough money to extend the project beyond the Central Valley.
While the announcement may have come as a surprise to voters who approved a nearly $10 billion bond measure to pay for construction back in 2008, financial records reviewed by the NBC Bay Area Investigative Unit show the project has been on shaky ground for years, dealing with cost overruns and bills for work that was never performed.
BILLS, BILLS, BILLS
NBC Bay Area obtained a list of all contractors paid by the California High Speed Rail Authority, as well as a list of all questionable charges flagged by the authority known as "disputed invoices."
Disputed invoices are charges the state believes it should not have to pay because the contractor overcharged taxpayers or did not provide enough proof they performed the work.
Records show more than 600 questionable charges since 2016 totaling $142 million. After negotiating with contractors, the state did end up paying a portion of these invoices, while others are still in dispute. Other invoices were never paid after state managers determined the work was not completed, duplicative, did not comply with the contract or was not done.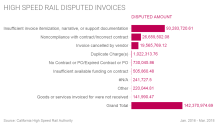 Those questionable charges include a $9,022,617.82 bill from a company hired to design and construct the rail line. State contract managers disputed $275,197.82 in markups and unapproved lodging expenses.
The state disputed another $17,705.06 charge from a consultant who tried to bill the state for a new office that had not been authorized.
There was even an invoice for $1,215 from UC Davis billing the authority for two different classes, even though one class was canceled.
NBC Bay Area's analysis of the data showed that more than a third of disputed charges came from a single consultant, Parsons Brinckerhoff, now known as WSP. The company provides administration services as the project manager in charge of construction. Since 2016, managers with the High Speed Rail Authority disputed $50,594,413.69 worth of invoices citing noncompliance and insufficient support documentation to verify the company's work. That's out of a total of $142,129,998 in disputed invoices for the project from 2016 through March 20, 2018.
WSP declined the Investigative Unit's interview request but sent us an email statement that reads: "We always work to accurately reflect the cost on a project. We continue to work with our client, the California High-Speed Rail Authority, to mutually resolve any invoices in question to their satisfaction in a timely way. It's tempting to be shocked by a $50 million figure, but that number paints an inaccurate picture: in reality, only a small fraction of that amount was ever in question over a period of many years on a multibillion-dollar project."
THE SYSTEM WORKS
High Speed Rail Chief Financial Officer Russell Fong oversees more than 200 contracts issued to vendors working on this project. Fong told NBC Bay Area that invoice disputes usually reflect a misunderstanding by contractors rather than an overt attempt to defraud taxpayers.
"Very seldom I would consider a fraudulent act," Fong said.
Fong said it's more difficult for auditors to verify invoices submitted by consultants like WSP because the services they provide are not tangible like other contractors who provide raw materials.
"It's hard to validate a service, so we need certain items [to verify the work]. If it was to pay for a bridge, you look at a bridge, and if it passed safety inspections, check the box. But when it's services, it's a little bit more challenging," Fong said.
"I would look at this [as] a contract manager doing a fairly good job protecting the state of California," Fong told NBC Bay Area.
But Democratic state Sen. Jim Beall, of San Jose, a strong supporter of the High Speed Rail Project is troubled by consultants watching over other consultants and little direct management supervision from people working directly for state taxpayers.
"I think the authority needs to have better executive management," Beall told NBC Bay Area. "It appears that rather than have consultants govern other consultants, we need to have a core group of highly qualified construction management staff" working for the state of California directly.
In fact, an independent audit report issued by California's Auditor's office, after it was asked by state lawmakers to look into the operation of the High Speed Rail Authority, found much the same concern.
According to the audit report, management at the High Speed Rail Authority relies too heavily on outside private consultants that "may not have the best interest of the state as their primary motivation."
'SIGNIFICANT PROBLEMS'
While the state was able to flag $142 million worth of questionable charges, a recent report by the state Auditor's Office found "significant problems" with how the authority reviews invoices, contributing to the project's $600 million cost overrun.
Republican Assemblyman Jim Patterson of Fresno has been a critic of high speed rail since the beginning and co-authored the state's audit report.
"The big problem here is that the High-Speed Rail Authority has been making it up as it goes along, and that's the danger point," Patterson told NBC Bay Area. "This audit clearly demonstrates that the project does not have sufficient money to finish."
Patterson wants to use the remaining money to convert the project to slow speed rail for Amtrak so that residents in Fresno aren't left with a train to nowhere.
"Right now, the real question is what will be left behind in Central California that is of value," Patterson said. "That's how serious the problems are with the High-Speed Rail Authority."
GETTING BACK ON TRACK
Meanwhile, across the aisle, the concern is the same. Even so, Beall thinks he can get the project back on track. He wants to see a full-time inspector general hired to keep watch over the books, similar to the one established to oversee BART. With better management, Beall believes the state can find the money to finish the job and bring high-speed rail to the Bay Area.
"We do want to have high-speed rail come to San Jose," Beall told NBC Bay Area. "If money was spent inappropriately, we need to get the money back, demand the money and get the return of the money so we can spend it on what we need to spend it on to complete the project."
If you have a tip for the Investigative Unit, give us a call at 1-888-996-8477, or you can reach us via email at TheUnit@nbcbayarea.com