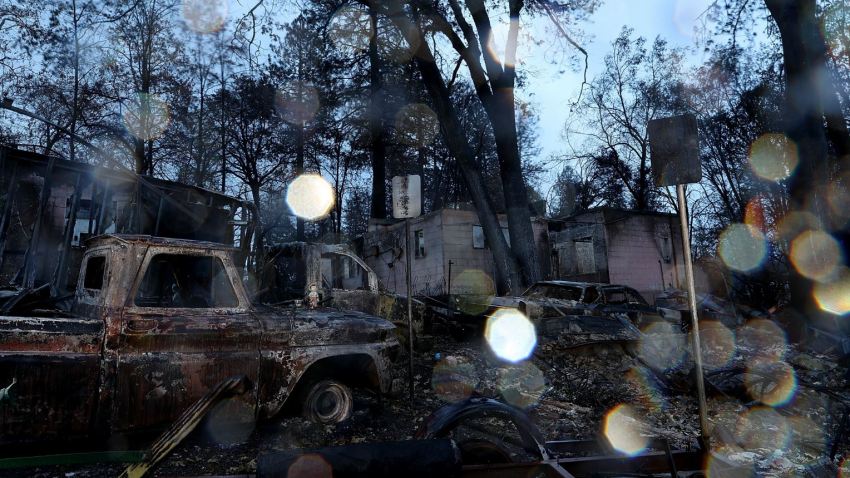 A storm that moved through Northern California largely missed wildfire-burned areas Thursday but crews remained ready to respond as more rain reached communities devastated by a recent wildfire, officials said.
Emergency response teams were monitoring rain-saturated areas in the town of Paradise and nearby communities in the Sierra Nevada foothills in case of trouble in flood-prone spots, said Butte County spokeswoman Kelly Hubbard.
"They are ready to respond to any concerns and watching and waiting because of the rain event that is coming through," Hubbard said.
The crews quickly cleared a tree that toppled in the town of Magalia, but no other reports of damage had been received from about an inch of rain dumped by a storm that hit overnight in the burn zone about 140 miles northeast of San Francisco, she said.
The town of 27,000 has been under mandatory evacuation orders for nearly three weeks since a wildfire swept through, destroying thousands of homes and killing at least 88 people.
Residents could begin returning early next week, but only if the storm doesn't hinder efforts to clear roads and restore power, said Sheriff Kory Honea.
No major problems were reported in burn zones in Southern California early Thursday, but numerous traffic accidents occurred on slick Los Angeles-area freeways and most vehicles traveling in the mountains were ordered to put chains on their tires.
The National Weather Service issued a watch for possible flash flooding and debris flows from areas scarred by major fires throughout the state.
On the coast near Big Sur, the California Department of Transportation closed a 12-mile stretch of Highway 1 because of potential instability.
The scenic route perched between towering mountainsides and the ocean has been dogged by slides since 2016. But the one that hit in May 2017 was monumental, requiring extensive work to rebuild the highway.
In Southern California, residents were urged to voluntarily evacuate a string of neighborhoods about 45 miles southeast of Los Angeles along a flank of the Santa Ana Mountains where a fire burned thousands of acres last summer. Mandatory evacuations were ordered for a small section of the city of Lake Elsinore beneath a burn zone.
West of Los Angeles, rain fell heavily at times in vast areas burned by fires this month and last December — an area where there are strong memories of a January downpour that unleashed devastating debris flows through the community of Montecito that killed 21 people and left two missing.
In the zone that burned this month, the city of Malibu warned of rocks falling on canyon roads and Pepperdine University closed its campus.
Sandbags were offered in numerous locations in Los Angeles and Ventura counties. The city of Malibu urged residents to look for their locations in an interactive online map created by the U.S. Geological Survey that depicts the likelihood of debris flows given certain amounts of rainfall.
The weather service also issued a backcountry avalanche warning for most of the central Sierra, including the Lake Tahoe area.
The warning went into effect Thursday morning and runs through 7 a.m. Friday.
More than a foot of snow has fallen at some ski resorts around Lake Tahoe and more than 2 feet on the ridgetops in the southern Sierra south of the mountain lake where as much as 5 feet of snow is possible on the ridgetops by the weekend, the National Weather Service said Thursday.
The first of a series of storms moving into the Sierra dropped 14 inches at the Mt. Rose Ski Resort between Reno and Tahoe early Thursday, 13 inches at Northstar near Truckee, California and 19 to 30 inches at parts of Mammoth Mountain 120 miles south of the lake along the Nevada-California line.
Copyright AP - Associated Press