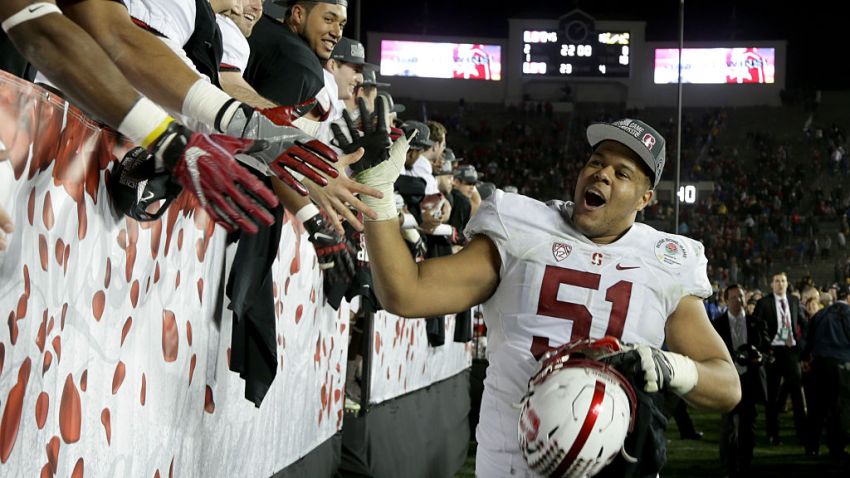 When the 49ers moved into the first round to draft Stanford guard Josh Garnett, they knew they were getting a physical player who has excelled as a run blocker.
What they didn't know was how the rookie's demeanor and actions in his first training camp would be more like those of a veteran.
Niners first-year head coach Chip Kelly earlier this week raved about Garnett's intelligence and intangibles. Already, Garnett has worked his way from the third-team offense to the second team and is threatening to take the first-team spot from Andrew Tiller.
"I think he's got a real good mind from a football standpoint," Kelly told the media. "The other thing with him, he's a real steady guy out there. There's not a high, low or whatever. He's just very consistent in his approach. He probably acts a little bit older than a typical rookie."
Now the 49ers are hoping they can add some versatility to Garnett's toolbox, too.
Up until Monday, Garnett had taken all of his snaps at right guard and was paired with right tackle Anthony Davis. On Tuesday, the 49ers moved him over to the left side.
Veteran Zane Beadles, an offseason free-agent pickup, has been projected to be the starting guard on the left side next to tackle Joe Staley, and that's still the most likely scenario. But Kelly says the coaching staff simply wants to get Garnett as many opportunities as they can this summer, and get him comfortable at both positions. Versatility always is a plus.
"We still have a lot of time before we dive into what a depth chart is and who's going to play what," Kelly told Matt Barrows of the Sacramento Bee. "So we're just trying to get those guys reps. If they happen to be lined up next to the same guy – Joe's been next to Zane a lot – but I wouldn't read into any of that stuff right now."
Garnett played left guard at Stanford but was fine with moving to the right side for the 49ers. He says it doesn't matter where he plays.
"Wherever they put me, I'm going to go there with a smile on my face," he told reporters after Tuesday's practice.
Added Garnett: "I can go wherever the coaches need me to go and be that versatile guy."
Garnett and his teammates will get their first game action this Sunday night in the exhibition opener vs. the Houston Texans.