What to Know
San Francisco will equip 1,000 of its 3,000 sidewalk trash cans with sensors from startup Nordsense
The sensors can tell if a can is full, and warn city officials to empty it before it overflows
SF Public Works believes overflowing trash cans encourage littering and illegal dumping
"Waste collection hasn't really changed for the past 100 years," Manuel Maestrini told us as a Recology trash truck roared by. "I mean, we used to do it with carts and horses. Now we do it with large trucks."
Maestrini is a bit of an expert on the subject of trash: he studied dirty streets for his master's thesis while in Copenhagen — the city that later became the first customer of his startup, Nordsense. (The name simply means "sensors from the north.") The startup makes a small black box that goes inside outdoor trash cans, and monitors how close they are to overflowing. Once enough trash has piled up, the box sends out a request for a garbage truck to come by and empty the can.
"When a can overflows, there is a sort of domino effect," Maestrini explained.
San Francisco's Public Works department likens the effect to graffiti on an otherwise-clean wall.
"When someone tags a wall, if you leave it for a day or two, there will be a second, third and fourth tag," said Mohammed Nuru, the city's Director of Public Works. "When a garbage can starts attracting bags and starts becoming a pile, you know, the pile only gets bigger."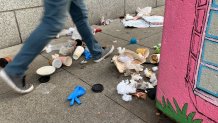 Indeed, up and down Market Street, trash bags, boxes and piles of loose garbage are easy to find sitting next to the city's green sidewalk trash cans. They're a small piece of a problem our Investigative Unit has been covering for months.
While campaigning, Mayor London Breed had promised cleaner streets within 90 days of taking office. Three months into her term, she maintains she's continuing to work at solving the problem.
"I am doing everything I can to invest the right resources into making San Francisco a lot cleaner," Mayor Breed told our Investigative Unit's Bigad Shaban.
After a successful 50-unit pilot, Nuru said the city will install 1,000 of the Nordsense sensors in the city's highest-traffic neighborhoods, and the ones most visited by tourists — including downtown, Chinatown and the Mission District. They'll equip a third of the city's roughly 3,000 trash cans, also putting some in places where there's a history of littering and illegal dumping.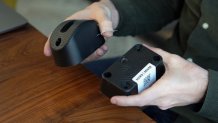 Maestrini and Nordsense CEO Anders Engdal said the sensors have been successful in Europe — not only at keeping trash cans from overflowing, but at reducing the workload for garbage collectors who previously had to stop at every can along their route to check whether it was full. The sensors can also detect trash fires, overturned cans and tampering by people who open the container to fish out recyclables.
Nordsense came to San Francisco as part of a city program called STIR, an acronym for "Startup in Residence." Startups in the program are invited to set up shop in San Francisco and work with the city government to co-develop an innovative solution to a pressing city problem over the course of 16 weeks. If the solution is successful, STIR will help fast-track the process of applying for a city contract.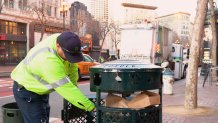 Nuru said at first, his department plans to gather data from the sensors to see how the existing trash collection and street cleaning routes could be adjusted based on the actual usage of the cans. Implementing a fully dynamic routing system, where cans are only emptied once they fill up, is a complicated undertaking that won't happen overnight, he said.
The Nordsense sensors will complement the city's growing number of "BigBelly" smart trash cans, many of them near Union Square, which have built-in compactors and also alert officials when they're nearly full. Nordsense provides an instant upgrade for ordinary, non-connected trash cans, and each sensor boasts a battery life of 5 to 6 years.