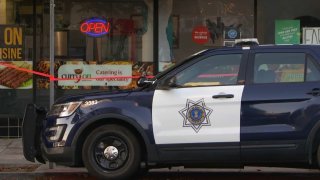 A suspicious death in the downtown San Jose area reported Monday is now being investigated as a homicide, according to the San Jose Police Department.
The investigation in the 200 block of East Santa Clara Street began Monday morning, and police said Tuesday morning it is now a homicide involving the death of a man who was found suffering from a traumatic injury.
The identity of the victim was not provided and will be released by the Santa Clara County coroner pending family notification.
It is the 25th homicide in the Bay Area's largest city this year, police said.
Anyone with information about the case should contact Detective Sgt. Bagon or Detective Sanchez of the San José Police Department's Homicide unit at 408-277-5283. Those wishing to remain anonymous may call the Crime Stoppers hotline at 408-947-7867.