More than a year after the remains of a woman were found in the hills above Saratoga, the Santa Clara County Sheriff's Office on Monday released images of what investigators think she looked like.
The young woman's remains were found Dec. 14, 2014, on the side of Highway 9 near Booker Creek Road. Sheriff's detectives determined the "Jane Doe" was a victim of homicide.
It wasn't until October 2015, that Sgt. James Jensen said in a release that sheriff's deputies sent her skull to the FBI. Last month, the FBI completed a "facial approximation" and sent the results back to the sheriff's office, which didn't release her image until Monday.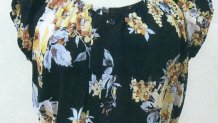 The homicide victim had been wearing a size zero "Just USA" and a 36A black "Lily of France" bra, and a small floral "Ambiance Apparel" brand blouse. The Santa Clara County Coroner determined she was between the ages of 15 to 24 years old and stood between 4 feet 11 inches to 5 feet three inches tall. She was white, had brown hair and had a petite build.
Medical examiners believe she died sometime between April 2014 and when her remains were found eight months later.
Anyone who can identify her should call the sheriff's investigations division at (408) 808-4500.