There are challenges in life we choose to take upon ourselves. And then there are the challenges life chooses for us.
Heidi Boynton has lived a life filled with both. And she wouldn't have it any other way.
"I am so grateful for all the crazy, wonderful opportunities I have had," says Heidi, a 44-year-old Santa Cruz mother of two. "I'm just grateful I'm alive."
Heidi's latest challenge is one of her choosing: she is running eight half-marathons in eight different cities over the course of nine days. Her goal, other than proving she can do it, is to raise the profile of her non profit, Mini Mermaid Running Club.
Heidi came up with the idea for Mini Mermaid six years ago after a conversation with a friend about the lack of fitness programs for girls. "I called her back 24 hours later and said why don't we just create our own? And make it free, for every girl. Because, why wouldn't you?"
Since then, more than 4,000 girls, ages 5-15, have gone through the six-week Mini Mermaid program. Aimed at improving, not just their fitness, but their self-esteem and self-awareness, the program ends with the girls completing a 5k road race in their community.
WATCH MORE BAY AREA PROUD STORIES
Heidi's hope is that the girls' come across the finish line feeling a sense of accomplishment and that anything is possible for them. "I want them to cross the line and think, "What's next?", Heidi says.
It is the very same feeling, and very same question, Heidi experienced herself after finishing her very first triathlon 12 years ago, just one year after being treated for a serious, and rare, type of blood cancer.
Heidi had been, up until her diagnosis, and avid, but recreational, runner. She says she started running after the birth of her first son as a way to get out of the house and clear her mind.
But cancer put a stop to that. She received her diagnosis in the fall of 2001. "By October, I couldn't run anymore. By November I couldn't make it up our stairs."
Heidi says it was thanks to a new, and experimental treatment, that she was able to recover to the point she could resume a normal life. She wanted to make the most it, though, so set her sights on that triathlon.
Completing it was a life-changing event for Heidi. "I didn't care about my time. I didn't care about the medal. It was the sensation that I put my feet across the line and now, what else can I do?"
In the dozen years since then, Heidi has become passionate about sharing the power of movement with other people, particularly woman.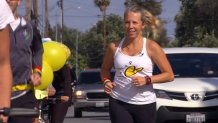 "There is an intrinsic connection between movement and your head and your heart and what magic that holds."
It is just such a message that she hopes the girls who participate in Mini Mermaid are learning, and one she hopes to reminder herself of over the course of her 105-mile adventure.