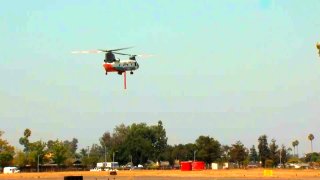 The massive SCU Lightning Complex Fire burning in seven counties, including three in the Bay Area, has charred 396,624 acres and is 98% contained, Cal Fire said Sunday. No structures are currently threatened.
For a complete list of evacuation orders and warnings pertaining to these fires, click here.
For a list of school closures due to the wildfires, click here.
The fires making up the SCU Lightning Complex are located in Santa Clara, Alameda, Contra Costa, San Joaquin, Stanislaus, Merced and San Benito counties, Cal Fire said.
As a whole, the SCU Lightning Complex is the second-largest wildfire in California's recorded history.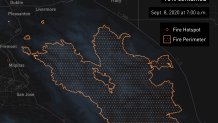 At least 136 structures have been destroyed, according to Cal Fire reports.
No deaths have been reported, but five people — three first responders and two civilians — have suffered injuries, Cal Fire said.
Cal Fire said the causes of the fires in the complex remain under investigation.
The agency opened a new incident information line for the fire. For the latest information, call 916-618-3195 or 669-247-7431.
Full containment is expected Saturday, Cal Fire said Wednesday.
For the latest updates from Cal Fire, click here.