If you ask kids what they want for their birthdays, requests for toys, stuffed animals, a bike, or the even latest craze, Fidget Spinners, are par for the course.
But not for Marcus Yakaitas.
The Lafayette boy's recent charitable act is boosting morale for Meals on Wheels and Senior Outreach Services in Contra Costa County.
Marcus, who celebrated his seventh birthday on May 5, asked his parents and friends to help him collect donations for the nonprofit in lieu of giving him gifts. He surprised staff at the Walnut Creek location earlier this week with a donation of $250 in cash.
"It was really cool and I really liked it because it made me happy," Marcus told NBC Bay Area, adding that he met some "nice people" at the donation center.
Marcus went to the Meals on Wheels office toting a race car-inspired cardboard box that he used to collect donations. On it, Meals on Wheels is written in thick black ink, surrounded by orange flames.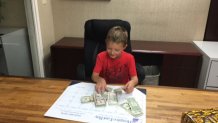 The boy's mother Amy Yakaitis said Marcus felt compelled to donate after watching kids his age participate in a March For Meals event a few months ago.
"He starts talking about what he wants to do for his birthday about usually six months before they happen," she said with a laugh. "We talked to him about it, and he decided that's what he wanted to do, that's who he wanted to help."
Amy Yakaitis recalled her son being excited to stuff the wad of cash — mostly made up of small bills — in a thin check envelope at the Meals on Wheels office. It required considerable effort, which made him proud, she said.
"He's so happy that he went through with the donation," she said. "It was a great thing for him. The staff was so sweet and amazing; they were giving him huge hugs, and just made him feel so good about it."
Elaine Clark, the chief executive officer of Meals on Wheels and Senior Outreach Services, said the donation came as a huge, but welcome surprise. Not only did the help come at a time when the nonprofit is grappling with possible federal funding cuts, but, because Marcus' actions were inspired by a previous march, it also validated the organization's awareness efforts.
"We've been in kind of in a funk," Clark said, referencing the federal budget proposal that was unveiled Monday, which includes cuts to programs like Meals on Wheels. "So for him to come in was really thrilling for us. He didn't just see something and say 'I want to do something,' he actually did it, and that makes all the difference.'
"The world would be a better place if more people acted like he did," she added.