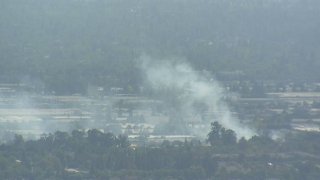 Firefighters in San Jose have a "Tier 2" fire, the equivalent of a two-alarm fire, under control after it burned roughly 3 to 5 acres near Rocksprings Park in San Jose, San Jose Fire Department Capt. Jesse Allread said around 4:50 p.m. Sunday.
The fire started around 2:30 p.m. in a homeless encampment in a creek drainage area near the intersection of Rock Springs and Needles drives and spread to heavy brush and then to trees, he said.
The burned acreage, off Senter Road and Phelan Avenue, is in an industrial area between the park and Yerba Buena High School, Allread said.
Camp residents in the area had to be evacuated, but no injuries were reported, he said. Fire crews are on site mopping up.
Copyright BAYCN - Bay City News