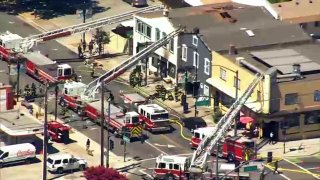 San Jose firefighters on Thursday battled a two-alarm commercial structure fire and a brush fire that burned at roughly the same time, the fire department said.
The commercial structure fire broke out at about 10:45 a.m. along the 100 block of Jackson Street, according to the fire department. Firefighters searched the building but did not find anyone inside.
No injuries were reported.
The brush fire ignited at about 10:30 a.m. near East Gish Road and Old Bayshore Highway. The fire department said it was knocked down at 11:14 a.m.
No injuries were reported.
The cause of the fire is under investigation.