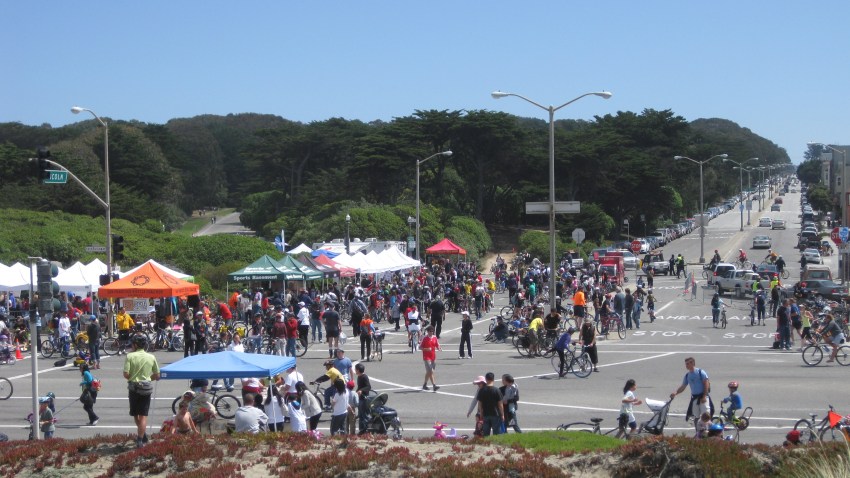 Thousands of people turned out for a bright and sunny Sunday Streets that stretched for miles from the California Academy of Sciences to the San Francisco Zoo. Bikes, pedestrians, and even horses made their way down the route, which started at the Panhandle, meandered through Golden Gate Park to the beach, and then continued south along the Great Ocean Highway.

As the terminal point for the event, the San Francisco Zoo saw huge crowds on the weekend. Families on bikes were treated to penguin feedings and lion feedings (presumably not together), as well as train rides on the rail line that encircles the exhibits. Children, some of whom arrived in bike seats and others on bikes of their own, were particularly drawn to the petting zoo and insect exhibits.

It was a perfect day to visit, as the sun had finally emerged in the outer Sunset for the first time in weeks.

Elsewhere along the route, the Academy of Sciences offered free admission to bicyclists, and Sports Basement provided free tune-ups.

But visitors were forced to scramble to leave the zoo early, due to the premature closure of the event, which ended at 3 p.m. The Holtz and Friedland families rode their bikes from the Lower Haight to the zoo in the morning, and hurriedly returned to the bike rack as the closure drew near.

"They need to extend it so we have time to get home," said one family member. Another agreed, saying that Sunday Streets needed to happen "more often, and longer."

There are two more Sunday Streets left this year. There is one in September in the Western Addition, and another in October in the Tenderloin. At the October event, Mayor Gavin Newsom is expected to announce the 2011 Sunday Streets lineup -- which, if we're lucky, will indeed feature more events, and longer hours.
Copyright FREEL - NBC Local Media