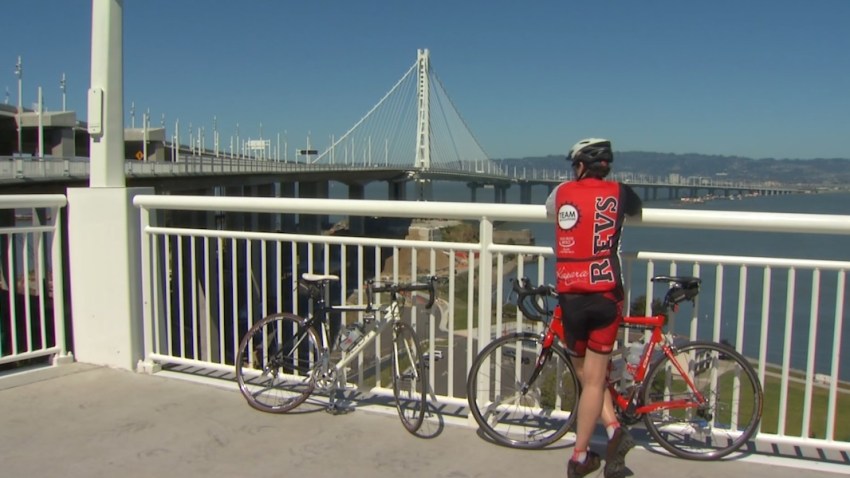 Whether you want to discover a new part of the Bay Area or just get some exercise, these bike trails are great for beginners and experienced bikers alike. You'll even get gorgeous views along the route!
San Francisco Bay Trail: The 500-mile trail loops around the Bay Area's bayfront cities and has several route options on its website. From the six-mile Bay Farm Island Loop in Alameda to the nearly 15-mile route through Baylands Park in the South Bay, each trail is sure to provide spectacular views.
Coastal Trail: Views of the ocean are a given on this beautiful stretch of trails and you'll have a flat path most of the way. If you feel like an extra challenge, stop at one of Pacifica's bike paths or nearby Montara Mountain if you feel like really breaking a sweat.
Golden Gate Park: San Francisco's Route 30, called the Wiggle, is marked with green signs labeled "SF Bicycle Route 30" and loops around downtown for a city tour before taking you straight into Golden Gate Park through Fell Street. The park boasts miles of paths through the greenery, waterfalls, and gardens around Stow Lake. If you want a slice of city riding with a view of the ocean as well as a picnic in the park, try this four-mile route from Haight-Ashbury to Ocean Beach. The last one to dip their feet in the ocean buys dinner!
The Silverado Trail: A relatively flat ride, this trail through Napa Valley isn't one to miss. The scenic trip through wine country is maintained through the Napa Valley Vine Trail Coalition and is great for families.
Golden Gate Bridge: Choose a bike path with the iconic Golden Gate Bridge. Use Google to route yourself to Black Sands Beach, which includes a steep incline at Conzelman Road, or take your bike to Sausalito, which includes a ride on the ferry. Another popular option is riding through the Presidio's trails and along the shoreline.
Tennessee Valley: There's plenty to do on this route in Marin County, offering a stop at Muir Beach, sightseeing and lounging on the beach at Tennessee Cove. Watch for horses as it is also a trail for horseback riders.
Angel Island: Perimeter Road, which loops around Angel Island, is an easy ride with loads of views to take in. Get to the island through the ferry service and head around the island on your bike. If you don't have a bike to bring along, you can rent one on the island during certain seasons.
Crystal Springs and Cañada Road: Starting south of San Bruno into Woodside, the nearly 18-mile route on the Peninsula has restrooms and picnic areas at the Sawyer Camp and includes Woodside's popular Cañada Road. Cañada Road even closes its road to traffic on Bicycle Sundays.
Haul Road: This roughly 10-mile round trip takes bicyclists through picturesque redwoods in Portola Redwoods State Park until reaching Pescadero Creek. The thick forest provides a contrast to the ocean and bayfront bike trails in other Bay Area cities.
Lake Chabot: A ride along the lakeshore is perfect for families and provides great views of Lake Chabot. If you want a challenge, the area boasts some popular mountain biking routes in the East Bay. The lake is also a popular kayaking spot, so if you need to cool off, just head over to the boat rental and lounge on the water.