Three teenagers were killed and one was in critical condition after police say a stolen gold Honda hit a pole and smashed into a tree in San Jose late Tuesday night, landing upside down and crumpled on the sidewalk after racing at a high-rate of speed with another car.
The teens were identified Wednesday morning by the Santa Clara County Coroner as Oscar Avila Toledo, 18; Jayleen Ciriaco, 15; and Anthony Ramos, 15. Relatives told NBC Bay Area many of them were troubled teens who had fallen in with the wrong crowd. Other relatives said street racing is common in San Jose, with some referring to the illegal behavior as "The Runs."
Family members also said the teens who died were passengers, and that they didn't know who was driving, why the young people were out late or anything about the stolen Honda. One teen was taken to the hospital in critical condition.
"I'm in the worst pain right now," Alex Lopez said, mostly of her friend Jayleen. The two were at a party Tuesday night before the crash. "She got a ride home," Alex said of her friend. "But she didn't get home."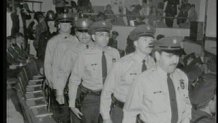 Witness accounts indicate the Honda, stolen from San Jose, and a dark-colored Acura were racing westbound on Santa Clara Street at 22nd Street about 11 p.m. Tuesday near downtown San Jose, Sgt. Domingo Sanchez said. The driver of the Honda lost control and spun out, striking a city pole and a tree, he said. The driver of the Acura took off, police said, and officers are now looking for whomever was inside.
Police spokesman Albert Morales said that he had never heard of the term "The Runs" before, although street racing has definitely been a problem in San Jose, causing fatal accidents over the years, including a jogger who was killed in January.
Hours after the triple fatality, about a dozen or so relatives came to witness where the teenagers died, and place candles to mark the deadly spot. One father found his son's glasses in the ivy under a tree, prompting other relatives to scour the nearby area for other possible lost belongings.
Dozens of family and friends also gathered late Wednesday for an emotional vigil.
Eric Hurtado said he does not know why his friends were in a stolen car, but said it is hard to believe they are gone. "It had me in shock," Hurtado said.
Anna Quezadas said her half-brother Anthony was trying to get his life back on track. She said the teen died too soon. A nephew told Bay Area that Anthony had been "in and out of jail" during his childhood.
Cousin Jose Macias recalled how Jayleen had been a "good girl" when she was younger and fell in with "bad friends" sometime last year. She smoked pot and stayed out late, he said. She had attended Ocala Middle School and Overfelt High School, he said.
He also said, when he was younger, he used to street race, too. He said friends would meet up at a McDonald's parking lot and figure out where to race.
"But I don't do it anymore," he said. "It's just too dangerous."
A candlelight vigil for the teens will be held at the crash site at 7 p.m. Saturday night. Family members of two of the teens said they plan to set up GoFundMe accounts in hopes the community will help pay for burial costs.
NBC Bay Area's Jean Elle and Ian Cull contributed to this report.