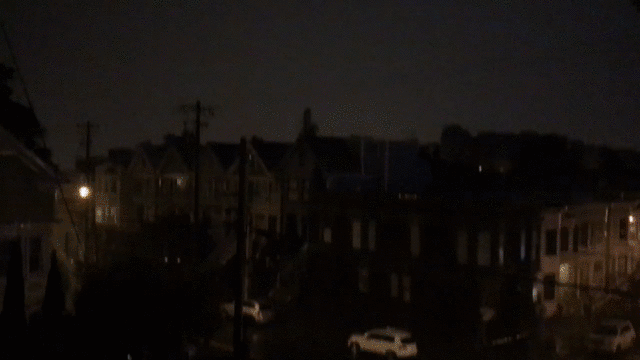 The rain was relentless on Friday morning, and the wet weather continued to cause problems throughout the day's entirety.
The National Weather Service issued flash flood watches for almost every Bay Area county, and heavy rains pounded the Bay Area, most heavily in the Santa Cruz mountains early in the morning. Ben Lomand, for example, reported receiving .94 inches in just one hour, the NWS reported.
SANTA CRUZ MOUNTAINS
The new rain also caused new problems for residents in the Santa Cruz Mountains, an area already saturated by heavy rains. Residents near the San Lorenzo River, which is expected to rise again, are on standby and ready to leave at a moment's notice.
"For Felton Grove, there's always this pooling and sort of flooding. But when the San Lorenzo comes up it gets more serious," resident Richard Shaffer said.
Shaffer is not taking any chances and has placed sandbags by his front door.
EAST BAY
In other parts of the Bay Area, water poured in, flooded roads and caused trees to fall in places such as Highway 13 in Oakland and into a home in San Carlos.
In the East Bay, widespread flooding could be seen on Alhambra Valley Road near Pinole, where an entire roadway gave way. Authorities said it could take a year for the road to reopen.
Last week's storm left more than $9 million in damages throughout Contra Costa County, prompting the county to declare a local emergency for the first time in more than a decade.
"That opens up avenues potentially for state and federal money to help with the recovery costs," said Julie Bueren, director of public works for Contra Costa County.
THUNDER AND LIGHTNING
Thunder and lightning also punctuated the skies.
Flashes were seen across the East Bay and in San Francisco. Emilie Porter, who lives in the Castro district, captured the rare image from her home. The strikes she captured on video turned the dark sky into a watercolor painting of light blue and purple. "We weren't scared," she said. "It was beautiful." She added, however, that her dog, Georgia, "was not a fan."
A line of thunderstorms also rumbled across the San Mateo coast, the National Weather Service reported.
HOLLISTER FLOODING
Just days after facing widespread flooding, the city of Hollister on Friday was forced to battle rising water once again. Rain water blanketed city roads and yards as people attempted to make their way through ankle-deep water.
Pacheco Creek on Friday could be seen flowing right through Lovers Lane in Hollister, prompting everyone on the street to be evacuated again.
San Benito County leaders said the levee that is on private property broke, which sent rainwater rushing down Lovers Lane.
Authorities said 21 people had to be rescued by a San Benito County Sheriff's Office water rescue team. Several farm animals were also in the process of being rescued late Friday.
The county has declared a local emergency.