The longtime maritime family that has run ferry service between Tiburon and Angel Island State Park said it will fight to renew its contract with the state, even after declining to answer the state's call for proposals to operate the service in the future.
Captain Maggie McDonogh said her family is circulating petitions and garnering support from local and legislative leaders in an attempt to persuade the state to reconsider its request for proposals. McDonogh said the family didn't submit a proposal since the state's stipulations called for the new operator to pay for sizable upgrades to the docks on Angel Island and Tiburon, which she said would run millions of dollars.
Ferry operators Blue and Gold Fleet have confirmed they were the single operator to submit a proposal to take over the run, which McDonogh's father founded in 1959 as the Angel Island-Tiburon Ferry Service.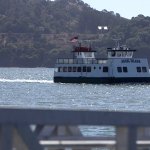 "We're going to continue to operate to Angel Island," McDonogh said this week in between ferry runs. "We're going to continue to take care of the communities just like they've taken care of us — that's who we are, that's what we do."
The McDonogh's history in Marin County's marine trade dates back more than a century. Maggie's grandfather Samuel McDonogh followed the railroad to the Tiburon waterfront where he built the McDonogh Fish and Chowder House. He was known to locals as "Sammy the Skiffman" for taking vacationers out on fishing trips on the Bay.
Maggie McDonogh's father Milton founded the Angel Island Ferry Service in 1959, converting a navy vessel that could haul 50 people. After a series of boat, in 1975 he had the Angel Island ferry constructed. The boat was painted a kelly green so unusual, the complaints resulted in a city council meeting. He ended up repainting the boat white to appease the locals.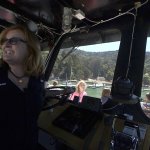 "My dad always said not all return on investment is financial," Captain Maggie said.
Maggie grew-up on the water under her father's careful tutelage; learning how to stow life jackets and to pump water out of the boats after a rainstorm. She eventually learned to skipper the boats and is now at the wheel when the Angel Island sets out on another run.
"We've been down here for over five generations," McDonogh said. "We've run boats in and out of Angel Island long before it was a state park."
McDonogh recalls making runs to the island with a crib inside the cabin holding her two young children Becky and Sam. Sam, 23, now skippers the family's other boats while his sister Becky works as a deckhand.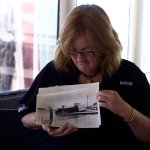 "We generally love what we do, we love being on the water," Sam McDonogh said returning from carrying a group from a charter fishing trip. "It's not really a choice it's just where we need to be."
Maggie has known many of the company's ten employees since they were small children. Longtime friend Ed Geary recalled that when a wildfire broke out on Angel Island in 2008, Maggie hauled firefighters and staff back and forth to the island. During last year's North Bay fires she was once again hauling support.
"Once you have the water in your veins that's it," McDonogh said, "that's what you're going to do."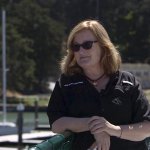 It is unclear how the skirmish with the state will turn out. McDonogh hopes the state will reconsider its RFP. If not, she said the family will continue to offer ferry service to the island, potentially in competition with Blue And Gold.
"We're going to keep running, that's what we do," McDonogh said before heading out on a last run of the day to pick up visitors on Angel Island. "Saltwater is in our veins."