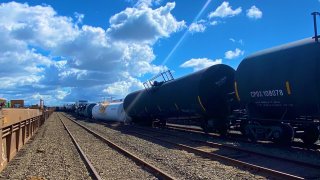 No injuries and no leaks were reported in Oakland on Monday after the derailment of six rail cars, four of which were full of liquid sulfuric acid, an Oakland Fire Department chief said.
Oakland firefighters were alerted at 10:46 a.m. to the derailment near the Port of Oakland, according to Oakland Fire Chief Reginald Freeman.
Although the train's conductor reported smelling an odor, none of the cars containing 128 tons each of sulfuric acid leaked, Freeman said.
The two other cars were empty and previously contained a petroleum product.
With no leaks in sight, Freeman said, "We got the result we were hopeful for."
Union Pacific Railroad will have a crew on scene late Monday afternoon to upright the cars, Freeman said.
The train was coming into the railyard slowly and did not hit anything stationary, which may have been the reason nothing was leaking when hazardous materials crews evaluated the cars. The exact cause of the derailment remains under investigation.
Copyright BAYCN - Bay City News