It's something you know not to do with your groceries: leave raw beef, poultry, and milk sitting for hours without refrigeration. But an NBC Bay Area investigation caught several local restaurant owners and staff in the act, ignoring some of the most basic food safety practices.
"I sincerely felt I was going to die," Scott Lohmann said, describing his bout with food poisoning after he ate chicken salad he didn't refrigerate right away after bringing it home from the grocery store. The triathlete says it was the worst pain of his life, causing him to collapse on his bathroom floor.
"I woke up staring at my wife. I was on the bathroom floor laying on my back, and she was screaming at me because she thought that I had a heart attack or a stroke," Lohmann said. After he passed out again, Lohmann's wife called 911, and an ambulance rushed him to the emergency room, where doctors determined it was food poisoning.
Lohmann's illness illustrates the dangers of leaving food unrefrigerated.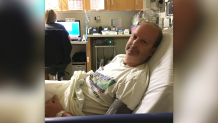 Keep It Cool
California health code requires commercial food handlers to keep potentially hazardous foods like meat and dairy in a freezer or refrigeration unit below 45 degrees during transport. This prevents harmful bacteria like e. Coli and salmonella from causing food poisoning.
State law gives workers a 30-minute window to transport food without temperature controls, but NBC Bay Area hidden cameras followed food for hours in temperatures hovering near 80 degrees.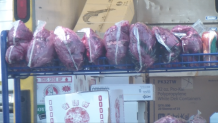 Risky Practices
In San Jose, NBC Bay Area observed restaurant workers purchase raw beef from a food supply store and load it onto the back of a pickup truck in 75-degree weather. An hour later, the food arrived at Tacos El Compa. County inspection records show the taqueria was cited in March 2017 for several safety violations, which included storing food at dangerous temperatures.
A man who identified himself as the owner initially said the food belonged to a friend.
"I get my stuff from Sysco," he said. "Everything, everything, everything is not mine."
The owner later acknowledged the beef we saw carried into his restaurant was his.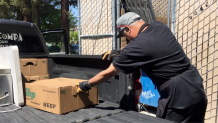 Popular Vietnamese restaurant Nha Trang in San Jose accepted raw crab and seafood from the back of an unrefrigerated minivan, where it sat for an hour and 15 minutes. County inspection reports show the restaurant received three yellow placards since 2016 and had a confirmed case of food-borne illness in September 2017. The restaurant's owner did not respond to requests for comment about what NBC Bay Area observed.
Employees with Khan Karahi in Fremont transported raw chicken, goat and milk in the back of an unrefrigerated van.
NBC Bay Area followed the van for nearly two hours before all of the food was unloaded. The owner declined to comment.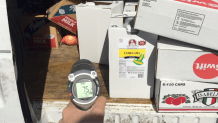 But the food that sat out longest belonged to Phu Lam restaurant owner Kim Chung. At 2 p.m., Chung loaded his unrefrigerated box truck with slabs of meat, cartons of chicken, and boxes of fish and produce. Chung ran several errands around San Jose, including a stop at Costco, where he came out with a 58-inch flat screen TV.
Just after 6 p.m., Chung and his workers finally unloaded the food at his restaurant, more than four hours after he first purchased the meat.
Chung told NBC Bay Area this was not a regular business practice for him; however he had a lot of things on his to-do list with only a limited amount of time.
"Today I tried to get everything done. Otherwise I would just come [to my restaurant] right away," Chung said.
County Inspectors
NBC Bay Area showed our findings to Santa Clara County Environmental Health Director Michael Balliet.
"There are thousands of people that potentially die from food-borne illness every year. We take it very seriously," Balliet said.
In the past two years, county inspectors wrote nearly 7,000 citations for storing food at the wrong temperature. Still, Balliet says these violations can be difficult to catch without a tip from the public.
"Oftentimes we find out about it from restaurant ex-employees, we find out about it from the public, we find out about it from the news," Balliet said.
Scroll down to find your favorite restaurant's recent health inspections
If inspectors find a food temperature violation, penalties range from disposing the food to shutting down the restaurant. The most serious cases are referred to the District Attorney's Office for further prosecution.
Two weeks later, Lohmann is still recovering from the food poisoning.
"Now I have a little paranoia about it. I sincerely watch it like a hawk and put everything in the refrigerator." He said he is now much more vigilant about keeping his food at the right temperature and hopes professional restaurant owners would be too.
"No one wants to have the chance of going to a restaurant to get sick."
If you have a tip for Vicky Nguyen about this or any other story, you can email her directly at vicky@nbcbayarea.com or you can email theunit@nbcbayarea.com or call 888-996-TIPS.
Follow Vicky Nguyen on Twitter www.twitter.com/VickyNguyenTV and Facebookwww.facebook.com/VickyNguyenTV