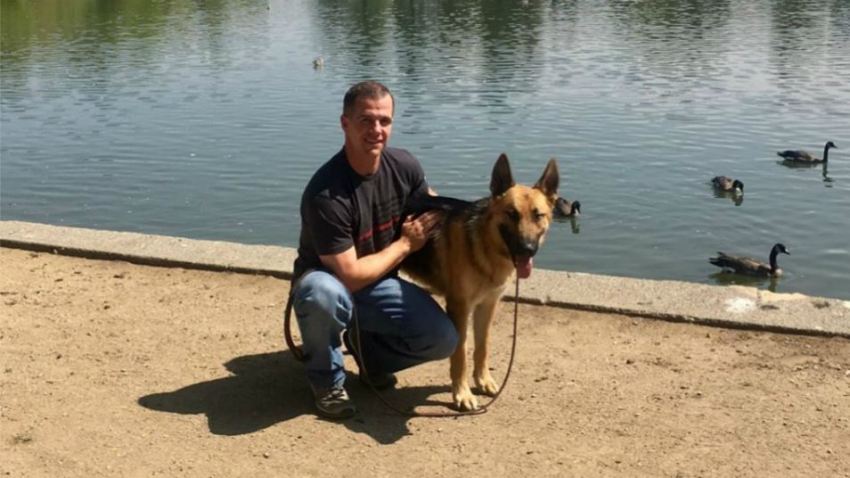 As the largest California wildfire ever recorded continued to devour bone-dry brush in the northern portion of the state, firefighters lending a hand from Utah came across a desperate sight: a German shepherd hunkered down under a tree.
Days later, the "stunning" dog is in much more comfortable confines. He has been adopted by one of the firefighters who found him, according to the Mendocino County Animal Shelter.
After making the discovery while battling the Mendocino Complex Fire, firefighters from the Draper Fire Department befriended the pup and aptly named him Mendo, according to the shelter. He was treated at the Mendocino Animal Hospital and later taken to a shelter in Ukiah.
From the get-go, a Draper firefighter by the name of Patrick wanted to adopt Mendo if his owner didn't come around to retrieve him, according to the Mendocino County Animal Shelter.
After being neutered and determined to be in good health, Mendo was transported on Saturday to Reno, Nevada, where he was reunited with his firefighter friend and new owner.
Mendo's arrival likely brings some curative powers to Patrick and the firefighters he works with. The Draper Fire Department lost one of their own, Battallion Chief Matthew Burchett, when he was struck by falling tree debris while fighting the Mendocino Compex Fire.
"We know Mendo will help them heal," the Mendocino County Animal Shelter wrote on Facebook.