The Ohio man who raised $55,000 for potato salad on Kickstarter wrapped up his campaign this week. Kickstarter's blog helpfully broke down some of the numbers.
Turns out that California was one of the highest contributors to the oddball project, second only to Zack Brown's home state of Ohio.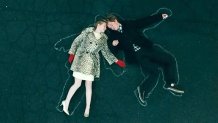 The way Brown pitched the project, it seemed satirical, absurd, but also rather literal. "Basically, I'm just making potato salad. I haven't decided what kind yet," he wrote.
The goal was set at a reasonable $10. "It might not be good," he warned. "It's my first potato salad."
An ABC station in Columbus helped to drum up suport as did a post on the linksharing site, Reddit. Within days, Brown had attracted tens of thousands of dollars. Despite the $10 goal, the money kept pouring in until the official close of the campaign this week.
It ended up being an historic Kickstarter. Many campaigns have earned more money, but according to Kickstarter, few have earned more pageviews. They say the potato salad kickstarter gathered 4.1 million visits, making it the fourth most popular campaign page in the site's history.
California now has a place in that little piece of internet history, having pledged 17.2% of the total Americans contributed. Only Brown's home state, Ohio, pledged more with 17.6%. The third highest contributor was New York with only 9.5%.
It's easy to imagine that California, as the tech center of the country, might have a greater attraction to Kickstarter (if not potato salad per se) but a lot of this seems to be a function of population. California's has about 18 million more people than New York, meaning our pledges per capita are much more modest.
Californians pledged just a quarter for every thousand residents, while New York showed a smidge more dedication with $0.27 per thousand. Of course, all this pales in comparison to Ohio, which raised a good $0.84 per thousand.
Now that the campaign is over, there will, in fact, be potato salad. Ohio residents can attend "PotatoStock", an event Brown plans to throw in Columbus in September. But skeptics might be glad to learn that a lot of this money will be going into a foundation for hunger. As Brown explains on his project page, "while our little internet joke will one day be forgotten, the impact will be felt forever."