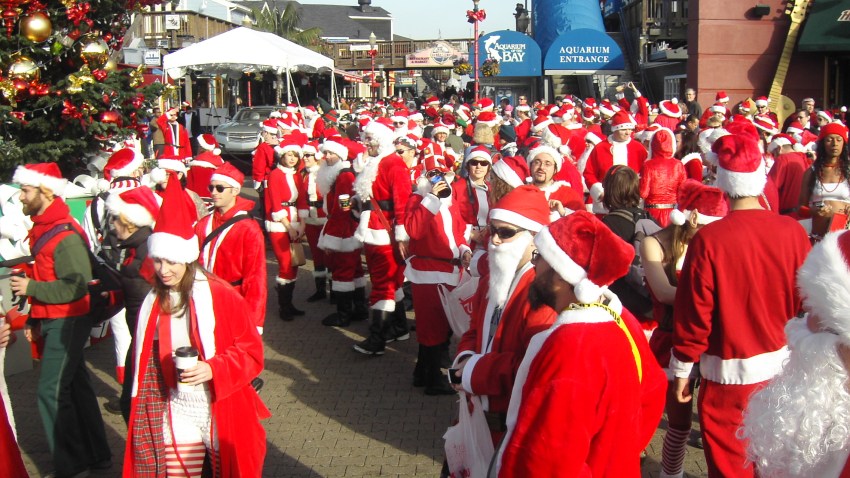 Seriously. You better watch out. Santarchy is coming to town today.

That means hundreds of men and women dressed in Santa suits will descend on the City at high noon.

The reveling by the mostly drunk gathering is expected to last well in the night with stops in nearly every nook, cranny and bar stool in San Francisco.

Many Santa's carry bags of naughty goodies to hand out to Ho Ho Hos they meet along the way.
Santarchy or Santacon events are held in just about every big city in the country and many more around the world.

It is an adult-only event from start to finish which got its start back in 1994 when a few friends decided to visit downtown San Francisco for a night they titled "Kringle Kaos." That night has evolved into a worldwide phenomenon.

The dress code is simple. Duh? Wear a Santa suit.

The Santarchy organizers have a four "f" list of things you should not do.

Don't "f" with police, kids, security or Santa. In the past, most revelers stick to those principals.

They are clear that Santarchy is "not a movement." They say it is also not a protest against Christmas or commercialization. "Really, it's just a bunch of Santa's getting together to have a good time."

The December 12 Santa-bration begins at exactly 12:12 p.m. at Civic Center Plaza Christmas tree.
Darn it all! Lori Preuitt's Santa suit is stuck at the dry cleaners.