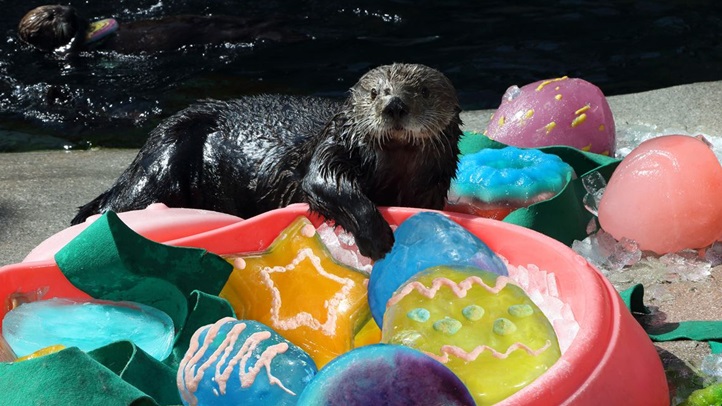 TREAT ENVY: Look, no one is asking anyone to give up their basket, the one full of the fake green grass and foil-wrapped chocolate bunnies. No one. But once you see the famous otter residents of Monterey Bay Aquarium hanging with their colorful ice treats, well.
The envy grows, just a little. Right? But we'll let the otters have their otter-appropriate treats without coveting them too much. The pretty "ice eggs" showed up in the otters' aquarium-adjacent hangout on Friday, April 18, and adorable, viral-worthy photographs ensued. That's because the over-sized eggs came in a rainbow of color -- blue, pink, yellow -- and included designs like butterflies. Oh yeah, and aquatic mammals chillaxing with their chilly snackage? That's pretty dang viral, too.
THEY CAN SEE COLOR: A fan on the aquarium's Facebook page asked if otters can recognize colors and the Cannery Row institution answered that they indeed can, hence the hue-happy treats. The ice has gone now, and the otters are back to dreaming about mussels, crab, and the other ocean-y edibles they live on, but it made for a festive moment. Does it outdo the pumpkins given to zoo animals to gnaw upon each Halloween? We don't want to get embroiled in that discussion.
OH YES... and the ice eggs were made by aquarium staffers, lest anyone get the notion that they emerged from the Pacific looking that way. The ocean is a wondrous place, full of magical properties, but ice eggs aren't a thing created by nature (yet). Need more otter love? Check out the aquarium's Sea Otter Cam, or take a peek back at the mom and baby who recently paid a visit to the aquarium's neighboring tidepool.
Copyright FREEL - NBC Local Media