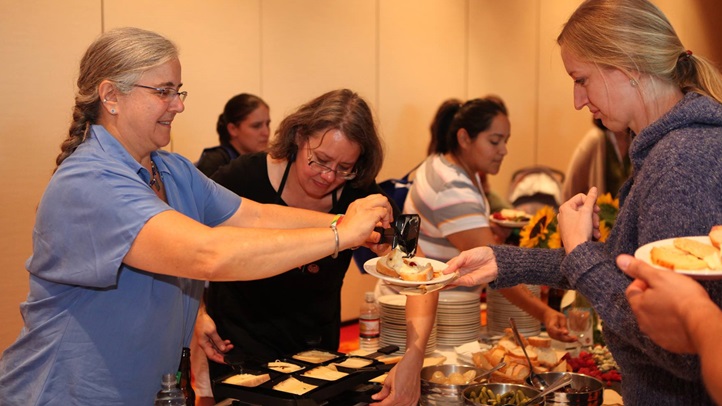 UHHH... STOP? When a server asks if you want grated Parmesan for your pasta, do you tend to hem and haw, nervously, knowing what comes next? He or she will politely advise you to say "when," but the funny thing is that actually saying "when" is one of the most challenging parts of your dinner out, and that includes figuring out a robust tip without a calculator or app. In fact, it would not be inaccurate to say you're somebody who would actually prefer a mound of shredded Parm with a little pasta on top, correct? If this is indeed your approach to cheese -- and we're raising our hand along with you -- then we expect we'll see you at the Sacramento Convention Center at the end of July. For California-based cheeseans got some rather plummy news recently, and it is this: The American Cheese Society will return to the Golden State "for the first time in more than ten years" for its annual Conference & Competition. This thing is huge, believe it.
HOW HUGE IS IT? "Nearly 1000 cheese industry members" will make their way to our capital to gab about Gouda and chat about Cheddar and take the Certified Cheese Professional Exam, which is some serious business. Receptions, talks, the sharing of savory information, and general hobnobbing shall festoon the four-day gathering like so many triangles of Brie on a wooden serving board. But what of the non-industry cheese lover? Won't they be shut out? Aren't they usually not invited to these sort of closed-door things? It's not like an important convention like this has Swiss-like holes in it, allowing easy access.
OR DOES IT? The public is indeed welcome in a few ways at the ACS partay. Volunteering is one route in, as is buying a ticket to the Festival of Cheese. Also, there's a cheese sale that's public-facing as well, and wait for it: "Cheese grab bags" will be a thing at both events. What? How did we make it this far in life without ever considering the magic of a cheese grab bag? Great Shropshire Blue! We haven't been thinking big enough. But we'll think bigger, from July 29 through Aug. 1, when the American Cheese Society's 31st annual conference rolls like a big wheel of something soft and spreadable into Sactown.
Copyright FREEL - NBC Local Media