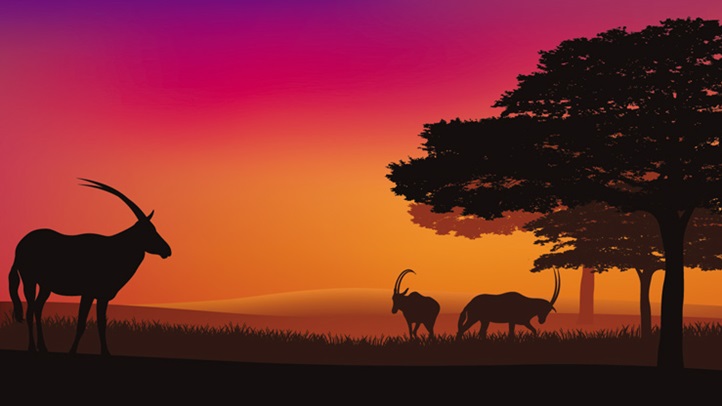 HARVEST TIME... may have come to a close around wine country, but one wine country-close destination is keeping the good vino and vibe flowing right into December -- but with a gnu twist. Oh, did we type "gnu" right there? Of course, and we meant to, because we're speaking of Safari West, the Santa Rosa animal preserve that's the expansive, be-safe-and-frolic home to a whole furry and feathery festival of beasties, from gnu to giraffes to cheetahs to kookaburra to cranes to striped hyenas. Typically when one makes for Sonoma County for both wine tasting and the admiring of animals, the two pursuits are distinct and separate. You stop at a favorite winery, maybe for the night, and then you travel onward to the Santa Rosa-famous animal park. But every so often there's a way to do both, while spending the night actually within the 400-acre preserve. And every so often on top of that? There's a special offered by Safari West to make the whole thing a tad tastier. That current special is called Wild Nights in the Wine Country and it is on through December 2015, with a few asterisk to keep it all interesting.
THOSE ASTERISKS... involve guests staying mid-week, on select nights, so if you're hoping to book this on a Saturday, no roaring or kookaburra-style calls: It isn't available. But think of the peace you'll find, say, on a Wednesday night in November, knowing that you're in a "Double or Hillside King luxurious tent" on the property, miles away from the hubbub of home. A bottle of Francis Ford Coppola wine and a gratis tasting-for-two at Mr. Coppola's Anderson Valley winery make up the "Wine" end of the special. Dinner at the Savannah Grill is also part of the deal. As for the "Wild" part? You'll jump aboard a "classic vehicle safari" through Safari West, the better to see the roarers and screechers and cooers and callers who call the Sonoma spread home.
THE PRICE... starts at $410. The temptation to make this an early holiday gift for the animal aficionado in your life? Very tempting. Who says big, getaway gifts have to be enjoyed after the holidays wrap? Do them when they come up, especially if a wine and/or package is involved. And especially, especially, if you might see giraffes and kookaburra birds and a gnu or two.
Copyright FREEL - NBC Local Media