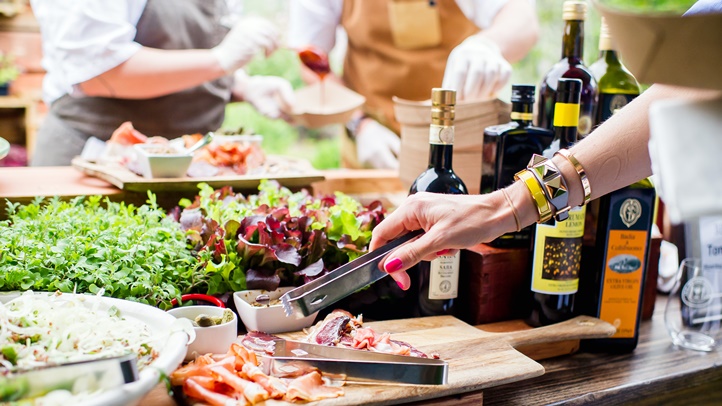 FELL-SWOOPING YOUR WAY... through a particular town's food scene or the wineries dotting a beautiful, grape-rich region? It's a dream of many travelers short on time. For the chance to get to know a lot about the chefs of an area, all at once, doesn't come along too often, nor is there a way to get up on the vino pros of the area, in a night or an afternoon, either. But a springtime happening in Calistoga makes this desire so much more easily fulfilled, and that is happens in the middle of May, when the area is wearing is crown of perfect spring beauty, only further enhances the general joy. Oh, were we getting a tad too poetic there, with Calistoga and May and crowns and joy? You'll need to make for the area yourself, over the Thursday through Saturday of Mother's Day Weekend 2018, and if your mom is a foodie, then she should absolutely be your special guest at the sumptuous, learn-and-snack-tacular...
CALISTOGA FOOD AND WINE 2018: A VIP reception launches the weekend at Solage, An Auberge Resort, the hub and helm of the happening. That reception stirs up the appetizing goodies and get-to-know-ya moments on Thursday, May 10, while Friday the 11th brings a late-morning pasta class led by Chef Massimo Falsini of Solbar as well as an eveningtime Dine Around or a Jericho Canyon Vineyard Lobster Feed. On Saturday, May 12? Goodness, the gourmet-a-tude shall be high on the resort's Solstice Event Lawn, with area chefs joining Chef Falsini on cooking demos, small 'n tasty tidbits, and more. Shall there be lovely and deep-of-tone Calistoga wine, too? Oh yes, which will further add to the aforementioned joy and May and Calistoga and its rightful crown of springtime pleasures.
A PORTION OF THE PROCEEDS... will benefit the Calistoga Fire Association, making it truly a community-embracing, give-back gathering. As you peruse, note that each event is separately ticketed, so you can go a la carte with what you choose to do; find the details here. As for taking Mom? Truly, this might be just the sweet Mother's Day Eve treat she's been longing for.
Copyright FREEL - NBC Local Media