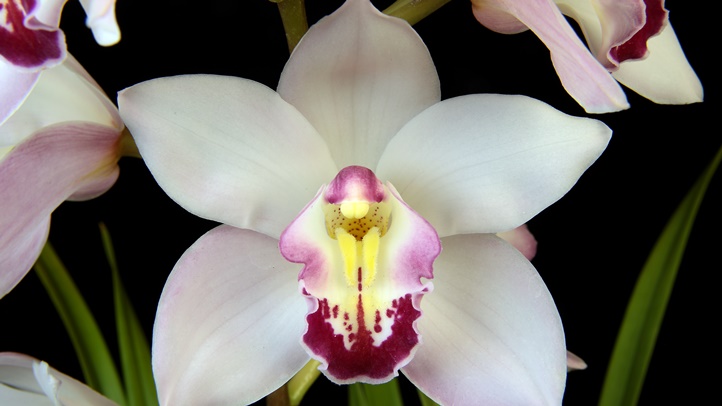 WHERE IS THE FLOWERIEST SPOT... in all of the Golden State just ahead of springtime? "My yard" is a perfect answer if you've been hard at work all winter, going the bulb and shrub route. A public garden is another perfect answer to this question, as California's tree-packed, bush-lined spaces do keep the blooms going even in colder weather, blooms such as cherry blossoms and camellias and aloe. But if you were to boldly state "The Earl Warren Showgrounds," well, you'd be as correct as a ranunculus bloom is petal-y. For so many gorgeous flowers are seen there, each and every early March, at the famous...
SANTA BARBARA INTERNATIONAL ORCHID SHOW: First up, and quite the important thing to know about the show? This isn't solely for orchid-minded experts, though they do attend in good numbers, which is great, for the air of expertise, and help, is high at the three-day event. So if you're a beginner, or you've got a few orchids at home but you'd like more, this is absolutely your event. It's for its 73rd go-around — that's right, year 73 — from Friday, March 9 through Sunday, March 11. Admission is $14, there will be orchids for sale, so bring money, yes yes. The 2018 theme is "Orchids — The World's Greatest Show," and a host of primo growers, like Santa Barbara Orchid Estate, CalOrchid, and The Huntington Library, Art Collections, and Botanical Gardens will be in the house. Also, look for international growers hailing from Taiwan, Malaysia, Ecuador, Brazil, Peru, and Colombia.
CONSIDER A VISIT TO THE ORCHID TRAIL... while in town, if you'd like to call upon specific growers and, just perhaps, enjoy some special deals timed to the show. Whether or not there are deals, though, what a joy to see this spectacular segment of Santa Barbara in full flourish, especially following the recent Thomas Fire and Montecito flood. Supporting the growers, and those who live and work in flowers around the American Riviera, is a wonderful way to spend one of the final weekends of winter, with a hope-filled view to spring.
Copyright FREEL - NBC Local Media