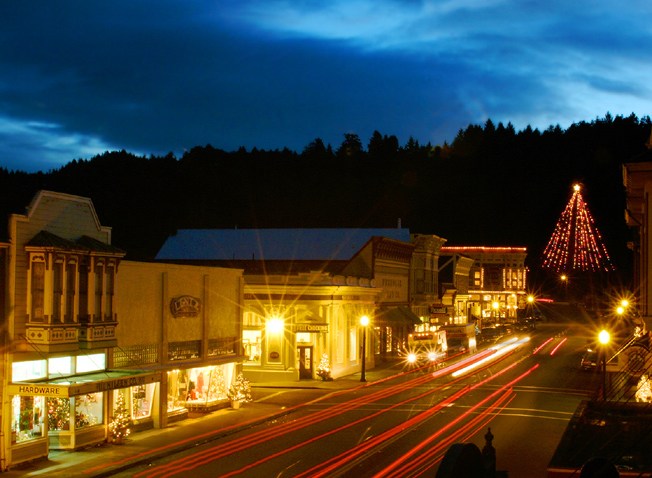 CALIFORNIA COLOSSAL: We're known for our love of treely grandeur here in the very long state that runs up a good chunk of the west coast. We've got some of the oldest, tallest, and largest trees on earth -- bristlecone pines, redwoods, and sequoias, don't blush, you totally know we're talking about you -- and we like to do it up, when it comes to special events. The holidays absolutely qualify in the special event category, and we put some of our regional tree-bigness into the various bashes. The tallest live cut tree happens to be here in the Golden State for the 2014 season, at the Citadel Outlets in Los Angeles. It's lit up and decorated for the yuletide (and not all that far from the World's Largest Bow, which tops the shopping center). Not lit up, but oh so very tall, is The Nation's Christmas Tree, which is the General Grant sequoia (a designation given in the 1920s by Calvin Coolidge). The Nation's Christmas Tree can be found in Sequoia & Kings Canyon National Parks, and it is honored with a special ceremony each December (but it is not, of course, decorated). As for America's Tallest Living Christmas Tree? Head up to Humboldt County, and Ferndale, festive-seekers, to see the spruce at the end of Ferndale's Main Street all a-glitter with hue-pretty lights.
DATE AND DETAILS: The tradition, a merry Ferndale thing since 1934, goes down, or sparkles up, rather, on the evening of Sunday, Dec. 7. A Portuguese Linguica and Beans Dinner at Portuguese Hall, free cookies and punch, carols, and more nice doings dot the night like so many bulbs on a really super-big spruce.
DID YOU KNOW... that Ferndale is home to "the most westerly hotel in the continental United States?" It's the Hotel Ivanhoe. Nope, you don't need to know that fact to enjoy the very, very tall tree, but it is yet another reminder that we like to stand out, whether it is biggest, tallest, or most westerly, here in California.
Copyright FREEL - NBC Local Media