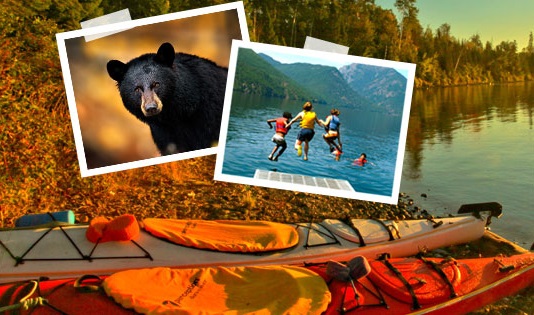 YOUR PERFECT SNAPSHOT: What constitutes the ultimate national park photograph for one person might not for another. Some of us turn our cameras toward the biggest natural wonder in the area as we fill the rest of the frame with mountains and trees and sky. Some of us focus on people at play in the area, rafting or hiking or sunning or climbing. And then there are a few of us that work on a micro scale, seeking out the bees alighting upon daisy petals and the smallest of twigs floating downstream. The beauty of all of this is that it all works, every last bit of it, and every picture taken goes into the wealth of captured imagery of our national parks. But why keep those on your phone, or just for your friends and family, when other park lovers can appreciate them? And why not try and nab a really excellent prize -- as in a trip to Yosemite or the Grand Canyon -- in the process of sharing?
SUMMER SCRAPBOOK: The National Park Foundation's summertime contest will focus on great pictures snapped in the parks, but a few other things, too (so fret not if you don't happen to have a super photo). The foundation is also looking for video and travel tips, which we probably all have. (Us? Sit near the Ahwahnee's bar, in Yosemite, facing Glacier Point, at around high noon, and enjoy a mimosa. Right? Who's with us?) The categories are plentiful and include Fun in the Parks, Helping the Parks, Water Photos, and more. Then the public votes on their favorites, through Sept. 30, 2013 and zoom! Someone has pocketed a national park adventure in Yosemite or the Grand Canyon. There are some goodies, too, like a national park pack, so sleeping at the Ahwahnee or Grand Canyon Railway Hotel is just the beginning of that victory.
SHARE AWAY: Ready to help fellow travelers with your travel tips or inspire them with photos and videos? And maybe win in the process? Here's where you start, adventurer.
Copyright FREEL - NBC Local Media